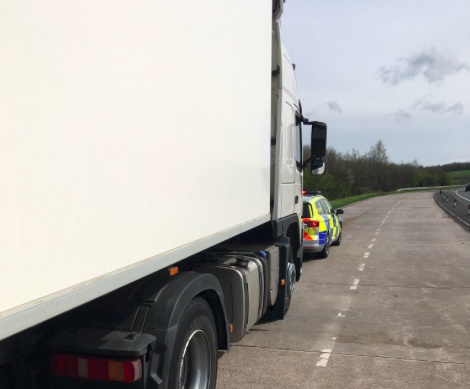 Photo: @DC_NoExcuse (via Twitter)
Warning to drivers as police across the UK support 'mobile phone campaign' this month
Between 15th and 28th of April police forces across the UK will be out supporting the 'mobile phone campaign'. Police will be reminding all drivers to switch their mobile phones off and put them away while driving.
Earlier today (17th April), a driver in control of a 44 tonne HGV was pulled over. The driver - who was commuting through Okephampton - was caught using his mobile phone and could now face a fine on up to £2,500.
Inspector Peter Thomas, from the Alliance Roads Policing Team, said: "It is simply not possible to use a phone handheld and be in proper control of a vehicle at the same time.
"Neither the police nor the public will tolerate drivers who risk their own safety and that of other road users by using a mobile device while driving."