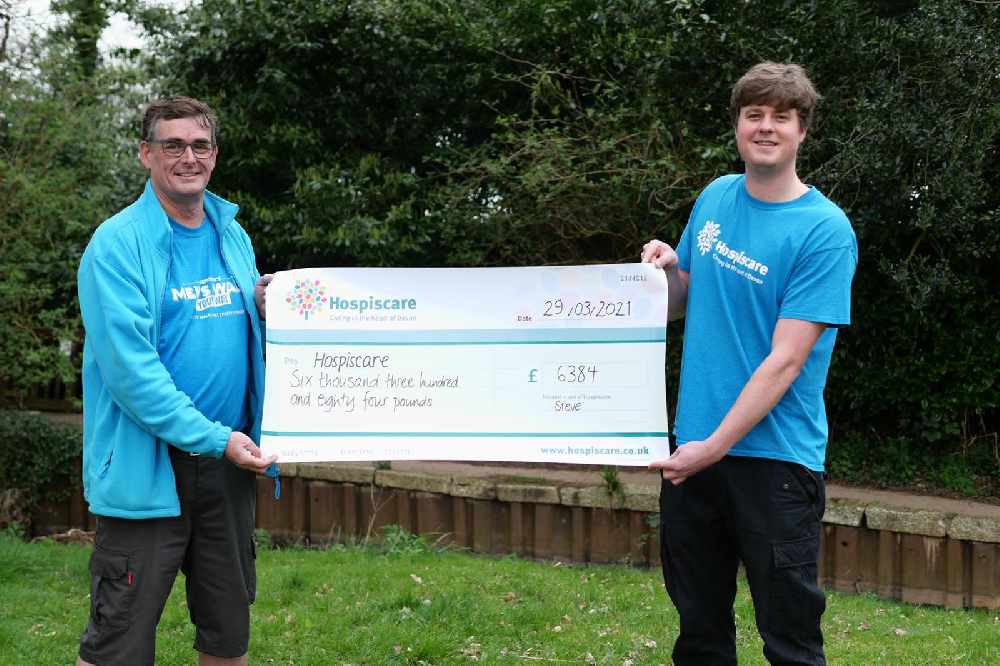 Fundraiser Steve Pearcy presenting his cheque to Hospiscare
630 people took part
Supporters from across Exeter, Mid and East Devon turned their miles into money for a local charity walking event.
On Saturday 20 March, 630 people took part in Men's Walk – Your Way to raise vital funds for Hospiscare, the local hospice charity that cares for patients with a terminal illness and their families in the heart of Devon.
As Men's Walk couldn't take place in its normal format this year due to the current lockdown, the Hospiscare team delivered all of the event favourites in a box: a bottle of special Men's Walk tenth anniversary beer from Exeter Brewery, a pasty from Chunk of Devon and a Men's Walk t-shirt and beanie. Every single walker received a special Men's Walk box, kindly delivered by DPD at no cost to the local charity.
Hospiscare has been overwhelmed by the support the community has shown Men's Walk in its new format. The charity would like to thank everyone who took part in Men's Walk – Your Way and, although the walkers had to take part in groups miles apart, together they raised a phenomenal £87,833 to support end-of-life care in the heart of Devon.
Ottery postman, Steve Pearcy, decided to go one step further than fitting his walk into one day. Over the course of a week, Steve extended his usual postal route to reach his 100-mile target on Saturday 20 March.
Steve wanted to give something back to the local charity that cared for his wife and supported his family after her death. Steve raised £6,404, making him the top fundraiser for the event.
Steve says, "I was blown away by the generosity of my family, friends and customers from my postal rounds. I had no idea how good the response would be. I would like to say a huge thank you to everyone who sponsored me, and also to my son and daughter, Aidan and Lauren, for helping and encouraging me."
Men's Walk – Your Way could not have taken place without the sponsorship of Wilkinson Grant who have been behind the event every step of the way. Men's Walk would not be the same without a pint and a pasty and the charity would also like to thank Exeter Brewery and Chunk of Devon for making this possible.