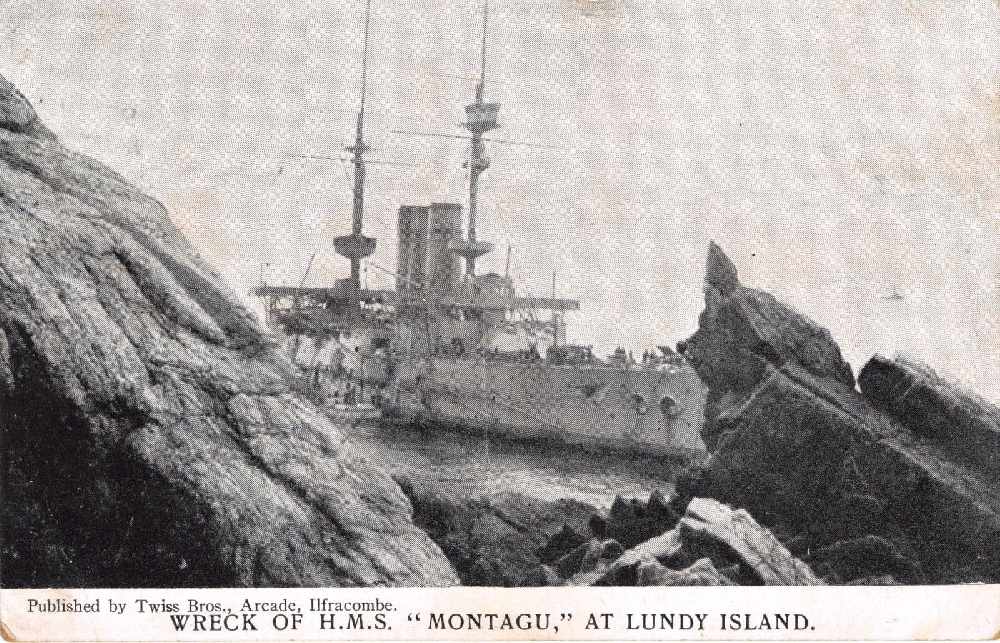 Image: Historic England
Steps in Lundy's cliff face also now have Heritage status.
A warship sunk off a Devon island is enjoying its first weekend under special protection.
On 30 May 1906 HMS Montagu grounded on rocks around the Isle of Lundy at Shutter Point in thick fog, due to a navigational error while undertaking secret radio communication trials. It could not be saved and had to be broken up and salvaged where it lay.
Launched just weeks after the death of Queen Victoria, it's the only surviving Duncan-class battleship wreck in Northern European waters.
Steps in Lundy's cliff face, cut to help salvage operations, also now have Heritage status.
As a protected wreck site, activities around Montague are now restricted.
Helen Whately, Heritage Minister said: "HMS Montagu and the Montagu Steps are all part of our nation's fascinating naval history.
"Sites like these must be protected for future generations and together with Historic England and Help for Heroes, we have now done exactly that."
Duncan Wilson, Chief Executive of Historic England, said: "Not only is the wreck of HMS Montagu important for what it can tell us about pre-First World War naval shipbuilding, but it is forever linked to the landscape of Lundy Island by the distinctive flight of rock-cut steps.
"Combined, the wreck and the steps provide a rare group of maritime monuments."
Dr Dan Atkinson, Coastal & Marine Director at Wessex Archaeology said: "We're delighted that our archaeological work last year, carried out on behalf of Historic England, has led to HMS Montagu being granted heritage protection.
"It's a rare example of a pre-Dreadnought battleship, marking a fascinating period of expansion and innovation in the UK's naval forces and, since its foundering in 1906, has remained an intrinsic part of the Lundy community's cultural identity, enjoyed by locals, tourists and the diving community alike."