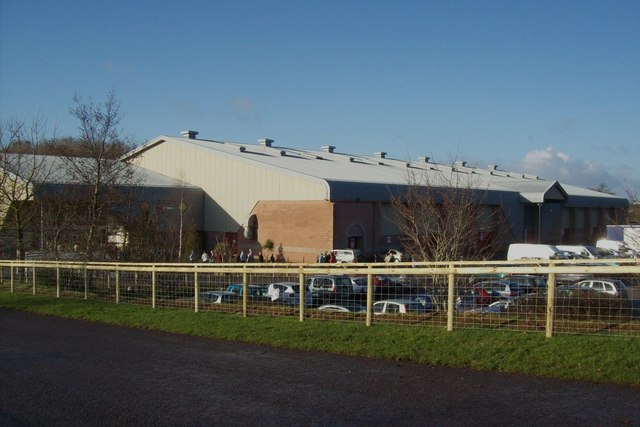 Westpoint Arena (courtesy: Liz Moon/Geograph)
Call for volunteer marshalls to join Exeter Chiefs helping out
A large vaccination centre at Exeter's Westpoint Arena has opened, meaning the jab rate in Devon can be increased substantially. The key limiting factor is availability of the vaccine. Staff from the Exeter Chiefs are volunteering as marshalls and stewards (but you won't get jabbed by a player) - and organisers are asking more people to volunteer too.
The operation, if that's the right word, is being managed by the Royal Devon and Exeter NHS Foundation Trust (RD&E), which runs the Royal Devon and Exeter Hospital.
Suzanne Tracey, chief executive of the RD&E and Northern Devon Healthcare Trust said: "Hundreds of people from different sectors have worked tirelessly to bring this centre together at a remarkable speed, and I'd like to thank each and every one of them for helping us to protect our communities against covid-19."
The site was established by the NHS with support from a team of volunteers from Network Rail, whose volunteers also pitched in to help set up the NHS Nightingale Hospital in Exeter last year.
If members of the public want to volunteer to be part of the biggest vaccination programme in NHS history, volunteer stewards and marshals are needed to support our local sites at Home Park and Westpoint. They will help manage patient flow and direct people as required.
The volunteering itself is flexible – shifts are four hours long and there is no minimum commitment. Volunteers can choose their shifts and work more than one shift in a row, if they so wish.
Exeter Chief's community development manager Aron Struminski said: "As a club we know how much we rely on our local community for support. Now, when the community needs us to step up, we want to help give back a little ourselves and that is why we are delighted that a number of our staff at Sandy Park have stepped up to volunteer at the new Exeter vaccination centre.
"These are incredibly tough times for all of us, but the roll out of the vaccination is a huge step in the right direction and we are determined to do our bit in helping combat this pandemic."
Appointments for the jab will be sent by letter and are staggered to allow for social distancing and people are urged not to turn up early to avoid queues.If anyone invited has received a jab since the letter was sent out or would prefer to wait to be invited to attend a hospital or GP service they can simply ignore it.
In northern Devon, vaccinations are taking place at GP-led centres in Barnstaple and Holsworthy as well as North Devon District Hospital.
The site at Barnstaple Leisure Centre, which is capable of vaccinating a similar number of people to the large-scale Vaccination Centres, can be scaled up as further supplies come in, with around 8,000 vaccinations expected over the next week.
Two pharmacy sites are also delivering vaccinations to northern Devon residents. The Oxford AstraZeneca vaccine, which is easier to transport and store, is also enabling GPs to run day clinics at individual practice sites in northern Devon and across the county, to bring vaccination facilities closer to people in places where the location of the local vaccination centre makes it difficult for people to access it.
To register as a volunteer at Westpoint, fill in the application form here.