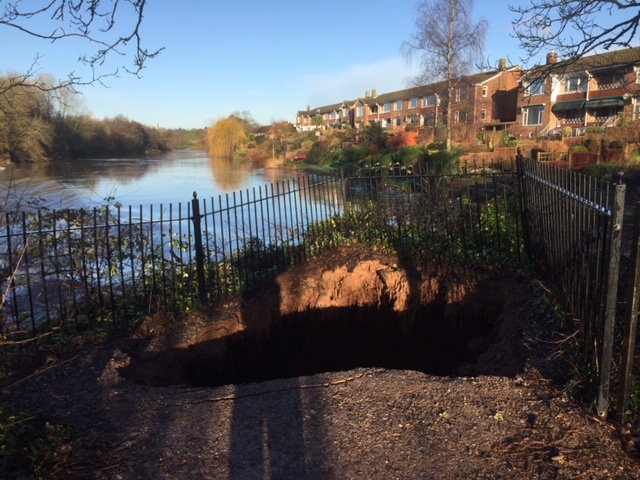 It appeared last month
Work will start today (Wednesday 23rd January) to strengthen part of the river bank in Exeter - after a massive sink hole opened up before Christmas.
The hole appeared close to St James Weir, taking with it a newly installed park bench. That will be replaced, but moved from its original location.
An access route in will be created, before rocks weighing up to 4 tonnes are bought in.
Cllr David Harvey, Lead Councillor for Place, said: "We are keen to protect the land at Duck's Marsh Meadow and prevent any further erosion to the riverside.
"Construction will start on Wednesday and in the interests of safety, I would encourage people to stay away from the area whilst the work is ongoing. Those who do regularly use this route will need to take extra care and be patient over the coming weeks."
"Once the work is completed we are hopeful that it will prevent the river from re-aligning itself and claiming more of Duck's Marsh Meadow, but we won't know for certain just how successful the work has been until the river is in full flow from heavy rainfall," added Cllr Harvey.
The work at Duck's Marsh Meadow will take around three week to complete.