Truro 20 Tiverton 14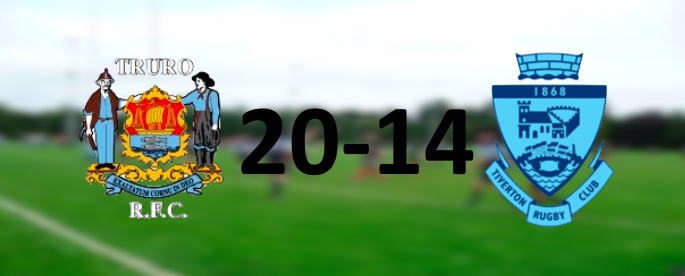 Tiverton left "frustrated"with narrow defeat against Truro
Tiverton head coaches John Hill says: "An away bonus point in Cornwall perhaps shouldn't be sniffed at in Western Counties, but it is safe to say that frustration was the over-arching feeling at the final whistle on Saturday when we narrowly lost 20-14 against Truro.

"Traditionally a tough place to play, we struggled to get an early foothold on the game and slipped off too many tackles against some powerful and direct Truro outside backs.

"That said, our second half performance was impressive, and time and time again we would push Truro off their own ball at scrum time, only to see no reward. The front row trio of Man of the Match Ben Blake, Ross Bovingdon and Matt Reed, had a field day in the scrums, but our line out was once again a little erratic.

"We were somewhat bemused when we mauled the Truro pack 20 meters from a driving maul, only for it to be dragged down a metre from the line, another key moment that on another day, we would have been rewarded. Truro, will also be frustrated at some key decisions, but will have been pleased that the final whistle came when it did.

"So, work to be done , but still a number of positives , and another league point on the road. We must look to improve our strike rate and our line out return as we go in search of a more complete performance.

"Wadebridge are the visitors this weekend. It is important that we continue our impressive home form to date, and we look forward to welcoming Ben Prouse, Ian Brewer and Greg Mills back into the squad."