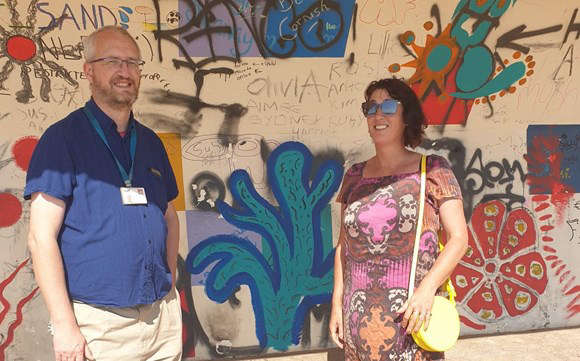 The wall is "an ever-changing collaborative mural": beach safety office Peter Blythe and artist Anna Fitzgerald
Exmouth has an 'Abode of Love'
Part of Exmouth's seafront wall facing the sea is to be spruced up in a 'collaboration' between East Devon District Council and an artist from the town.
They've nicknamed the wall, which was upgraded in a multi-million pound flood defence scheme, together with the seating area on the beach, the 'Abode of Love.'
It is popular with families by day, teenagers by night.
Artist Anna Fitzgerald says she wants to harness 'Exmouth's thriving artistic community,' while highlighting Exmouth's rich marine life including coral beds, rock-pools and sea creatures.
And now she, along with the council, is inviting people to add their own touches to create "an ever-changing collaborative mural, which much like the sea, will change and shift with input from across Exmouth's different communities."
Councillor Nick Hookway, East Devon District Council portfolio holder for tourism, leisure, sport and culture explained claims that the council's partnership with the artist "will ensure the area remains safe and cared for."
Ms Fitzgerald said: "I think it's important that everyone's voices are heard and I encourage any local people to get involved. Please contact me through my online gallery: Sea Dog Art or to come down in person. I will be at the Abode every Tuesday 4 to 8 p.m."
She is pictured here with East Devon's beach safety officer Peter Blyth in front of the wall.
Given the graffiti, which is sometimes interpreted as art, Radio Exe has asked whether the artwork is 'before' or 'after' the art improvement, and what the cost of the partnership is, if any.
The council has clarified that it's a work in progress that will be updated through the summer.
This article was amended on 6 July to change the last sentence after receiving a council response, and add the photo below.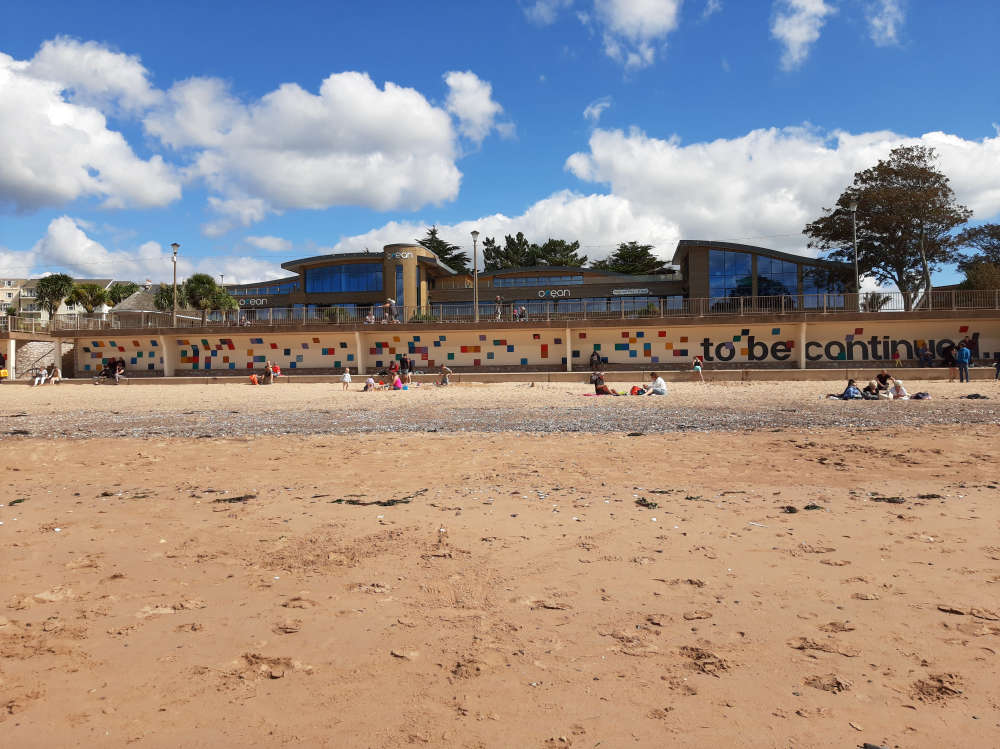 Exmouth's Abode of Love artwork is a work in progress (image courtesy: East Devon District Council)