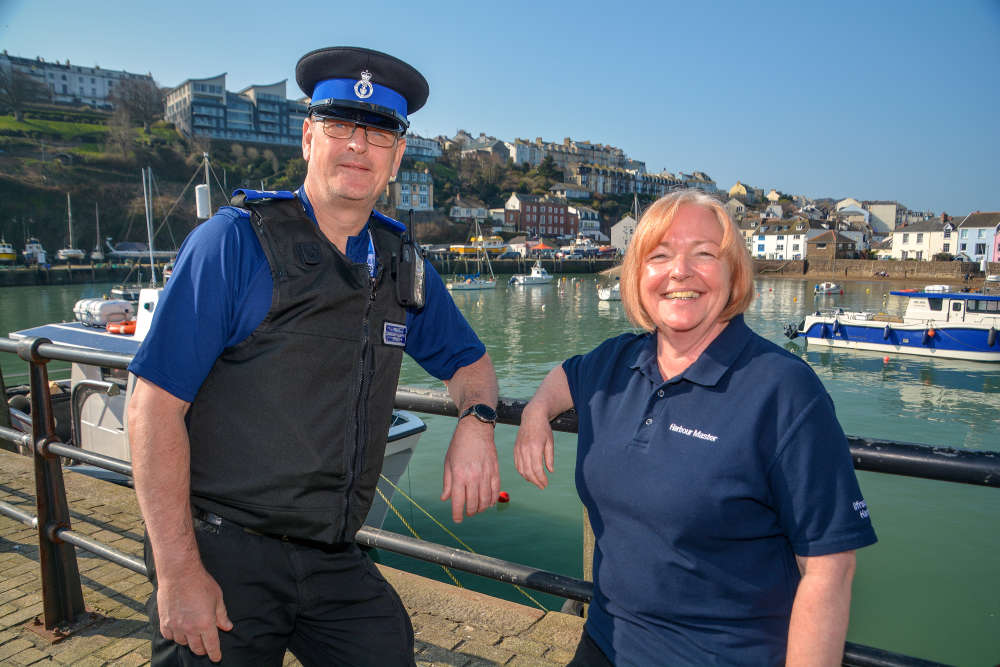 'Maritime' PSCO Andy Bailey and harbour master Georgina Carlo-Paat won't be tombstoning
Council partly funds PCSO
A Devon council is dipping into its funds to help fund a dedicated police presence around a busy waterfront.
North Devon District Council has joined forces with the police and crime commissioner for Devon and Cornwall to stump up the cash to pay for PSCO Andy Bailey to police Ilfracombe Harbour.
The pilot project will last 12 months, although the area's busiest period is in the summer tourist season, when the harbour sees a rise in antisocial behaviour (ASB) including street drinking and people jumping into hazardous areas of the sea, known as tombstoning.
Mr Bailey's being dubbed a 'maritime PSCO' and will be based at the harbour master's office.
He says: " "I'll be working with the harbour authority, the harbour master, Devon and Cornwall police and hopefully in conjunction with the community to make the harbour a safe place for both locals and visitors alike."
Ilfracombe harbour master Georgina Carlo-Paat, who is employed by North Devon Council, said: "PCSO Bailey has already been here for a few weeks and has been getting to know the local shop owners and members of the community.
"Having a visual policing presence of police authority here that has a direct link to the local police has never been done so we're really looking forward to the benefits this will bring.
Police and crime commissioner Alison Hernandez said: "Trialling new ways to create a uniformed presence in some of our remote rural and coastal locations is precisely why I created the Bluelight Fund some years ago, thanks to our council taxpayers.
"We are already expanding our tri-service safety officers in Cornwall and Firefighter/Specials in South Devon, so this latest innovation in North Devon feels like an obvious progression.
"This is a new opportunity to tackle antisocial behaviour, which can have a hugely detrimental effect on entire communities. That is why I have made ASB one of just four priorities in my police and crime plan.

"Working in partnership is the only solution to solving ASB in the long term, which is why I was so keen to work with Harbourmaster Georgina Carlo-Paat to pilot this Maritime PCSO post.
North Devon Council's harbour board chair Councillor Geoffrey Fowler added: "We're looking forward to welcoming lots of visitors over the summer months and we want everyone to be able to enjoy the harbour safely and we don't want the odd few people spoiling it for others."