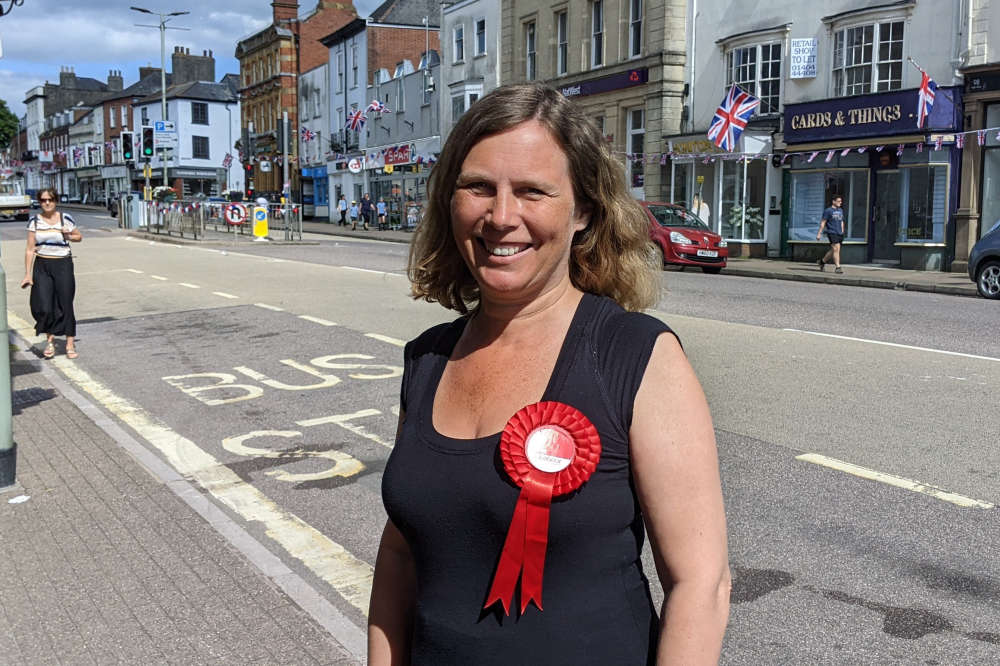 Liz Pole, surrounded by all the shadow cabinet who've been to support her
Liz Pole rejects claims of deal with Lib Dems
Labour's candidate for the Tiverton and Honiton by-election has played down suggestions the party is 'soft-pedalling' in the contest, and says it is "trying to help run the country."
Local businesswoman Liz Pole is hoping to replace Conservative Neil Parish, who resigned at the end of April after he admitted to watching pornography in the House of Commons.
Despite coming second to Mr Parish when she stood for the seat in 2019, it has been reported that the Labour's shadow cabinet is largely ignoring the Devon contest and focussing their attention on another by-election in Wakefield being held on the same day.
It lost the West Yorkshire seat to the Tories in 2019's general election that spelt the end of Jeremy Corbyn's time as leader, but voters will choose a new MP next week after Imran Ahmad Khan was convicted of child sex offences.
The Liberal Democrats are eyeing up a potential victory in Devon, with leader Sir Ed Davey and his top team making a number of visits to the constituency to back their candiate, Richard Foord.
In contrast, the Daily Telegraph claims Labour's "entire shadow cabinet has been missing in action" during the campaign, leading the Conservatives to accuse them of a "grubby backroom deal" with the Lib Dems.
Last month Sir Keir Starmer denied he had told his frontbenchers not to travel to Devon.
Speaking to the Local Democracy Reporting Service, Ms Pole said: "I don't believe those rumours, no.
"I think the Labour Party is trying to help run the country in the middle of a cost of living crisis. We've got the war in Europe, we've got pandemic recovery to think about and I just think our front benches are very busy.
"I understand why they are visiting Wakefield because it's been a Labour constituency, but I don't think that means they don't respect and appreciate my campaign or that they wouldn't love to win a seat in Devon and that's definitely my vision.
"My intention is to win this seat for Labour and it's been a long-term plan. Not because it is good for the party, [but] because I think it would be good for the constituency."
Ms Pole, who runs a software company with her husband, added: "I don't think that we're soft pedalling, no. Obviously I've been looking out for it, and I haven't really come across it."
Her campaign is focussing on the cost of living, combating anti-social behaviour, addressing climate change and bringing down waiting times for GP appointments.
A Labour spokesperson told the Daily Telegraph: "We have a brilliant candidate for Tiverton in Liz Pole and we are fighting for every vote there. There are no deals and no pacts."
Lib Dem deputy leader Daisy Cooper added: "There is no pact and there will be no pact. We are standing candidates in both Wakefield and in Tiverton and Honiton."
Eight candidates are standing in next week's by-election in Tiverton and Honiton, which the Conservatives currently hold with a 24,000+ seat majority:
Jordan Donoghue-Morgan – Heritage Party
Andy Foan – Reform UK
Richard Foord – Liberal Democrats
Helen Hurford – Conservative
Liz Pole – Labour
Frankie Rufolo – The For Britain Movement
Ben Walker – UK Independence Party
Gill Westcott – Green Party