WIN tickets to see The Hoosiers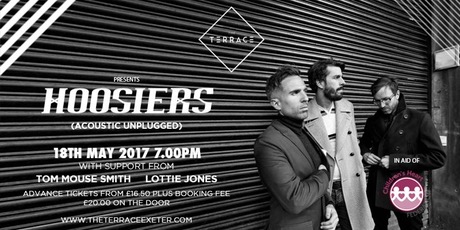 The Hoosiers are coming to the Terrace Exeter and you could WIN tickets to see the band on Drivetime with Ashley all this week.
They are set to play an acoustic set in Exeter to raise money for The Children's Heart Federation.
The Hoosiers, who have had hits with 'Goodbye Mr A' and 'Worried About Ray' have kindly offered to help support The Terrace in raising money for The Children's Heart Federation by performing an unplugged set on Thursday May 18th from 7pm.
The band were inspired by 12 year old singer/songwriter Tom Mouse who has achieved so much in such a short time whilst living with the life limiting condition Hypoplastic Left Heart Syndrome which means he was born, and continues to function, with only half a working heart.
And of course Tom Mouse Smith will supporting them.
Be listening out for our Hoosier montage of hits to WIN a pair of tickets each day!

All profits from tickets sales will be donated to the charity.