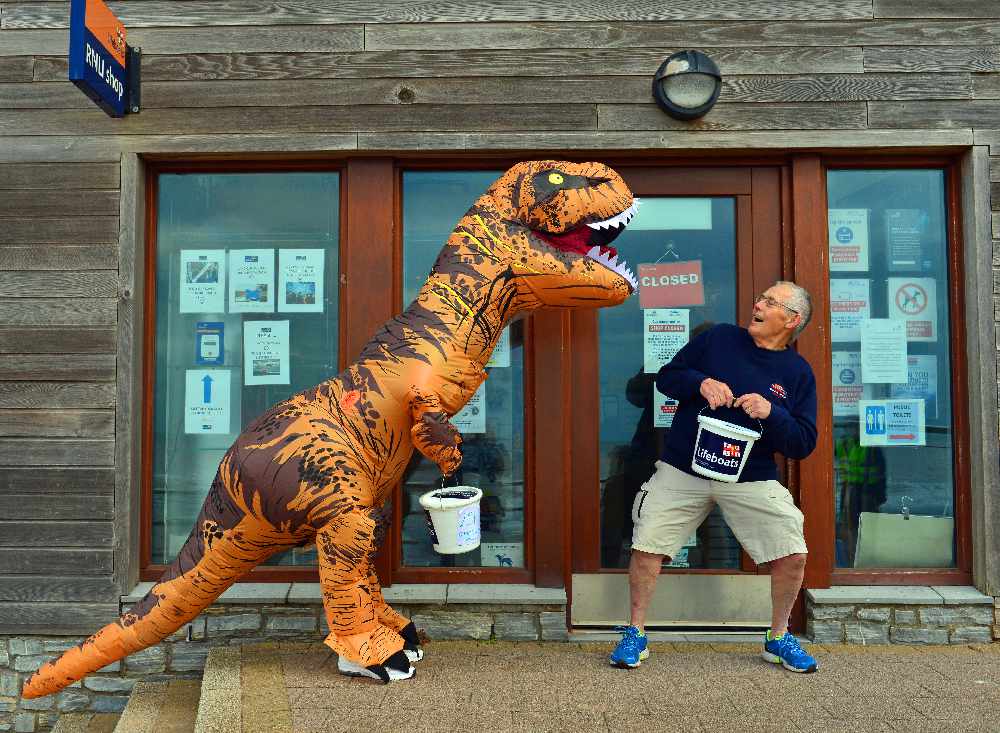 Mr Rex, left with RNLI visits officer Bill Lodge (courtesy: John Thorogood/Exmouth RNLI)
T-Rex pounds Jurassic coast towns
A dinosaur has run 25 kilometres in two towns along the Jurassic coast to raise money for the RNLI.
The tyrannosaur rex, propelled with the feet of new RNLI tour guide volunteer Jay King, took to the streets of Exmouth and Budleigh Salterton on Saturday.
Proving that dinosaurs are capable of running long distances, Mr King got trotting at 9 a.m, ending with sore paws nearly five hours later. It's possibly a world-record for a T Rex and the first time the record has been broken in 68 million years.
Supported throughout by his cycling human friend David Nelson, the dinosaur's route took him along the seafront, through Exmouth town centre, Phear Park, Brixington, Littleham, through to Budleigh Salterton Seafront, its High Street and then back through Knowle into Exmouth, Douglas Avenue and some repeats of Exmouth seafront to make up the distance.
The current total raised is currently £864.90.
The normally mute dinosaur said; "I'd completed a lot of training for the event and, on the day, it was ideal 'dino' running conditions - dry, not too windy and a perfect temperature. I was amazed at the amount of support I received on my run round, people hooting their car horns, stopping to make donations and have photos taken and so on. I was very pleased to have raised such a significant sum for Exmouth RNLI that far exceeded my expectations and I'd like to thank all those who contributed to help make my efforts so worthwhile."
You can donate towards Mr T Rex's fundraiser via this link: https://www.justgiving.com/crowdfunding/rexthedinosaur