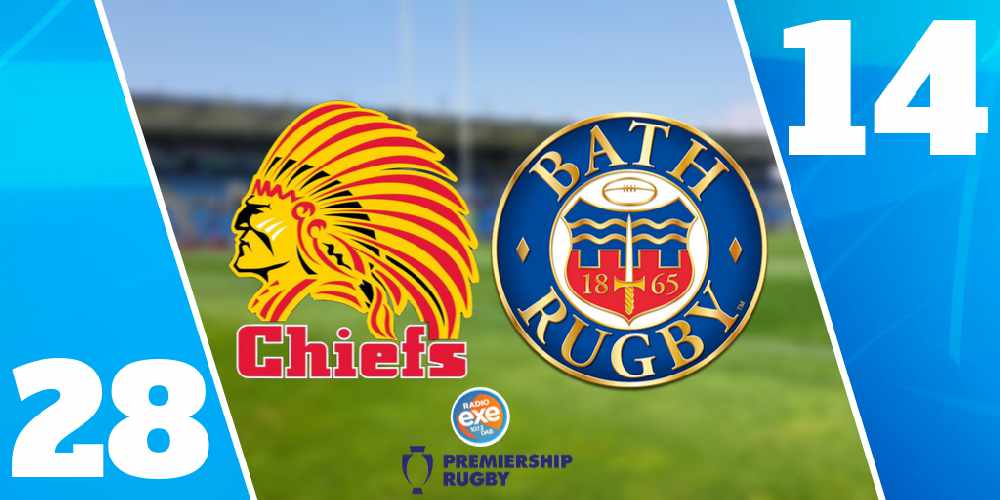 Match report: Chiefs beat Bath in Premiership Rugby Cup
Rugby has returned to Sandy Park – and the spectators were welcomed back with an entertaining west country derby as Exeter Chiefs beat Bath in the Premiership Rugby Cup.
Four tries from Tom Wyatt, Tom Hendrickson, Olly Woodburn and James Mcrae did the damage as Rob Baxter's men picked up their first victory of the season.
--------------
With six first team players on international duty, and a number of players missing through injury, Rob Baxter announced a predominately youthful squad. Experience, however, was provided by skipper Gareth Steenson, James Short and former Bath flyer Olly Woodburn, whilst up front new signings Jannes Kirsten and Stan South got their first outings in Exeter colours.
It was a slow start to the contest – with the first score in the 20thminute. Making his debut for the club, Exeter's 20-year-old centre Tom Wyatt was gifted his first-ever Chiefs try thanks to smart interplay from teammates Olly Woodburn and Tom Hendrickson. The Exeter duo made two quick passes, flying past Bath's final two defenders, to set Wyatt free under the posts. Steenson kicked the extras.
Exeter turned on the gas in the final ten minutes and deservedly scored two more tries, both expertly created by Hendrickson - who was the star player in the opening half.
The New Zealand born centre, making his 21stappearance for the Chiefs, broke Bath's final line of defence to run 15 meters and touch down directly under the posts before releasing a delightful pass to Woodburn who scored Exeter's third.
It finished Exeter 21 Bath 0 at half-time.
The second half was dominantly controlled by the visitors. Bath set camp deep inside Exeter's half, forced a number of penalties, and made the most of their momentum with a succession of tries. Exeter, meanwhile, only managed two attacks in Bath's 22 during the entire half.
Bath's speedy number 14, Levi Davis, led the fight back. The winger put on his afterburners to sprint down the right-hand side and score in style. Alex Davies kicked the extras.
With just under 15 minutes to play, Davis used his electric pace effectively once more to exploit a gap in Exeter's defence. The winger, rather unselfishly, then put the ball on a plate for Chris Cook to score under the posts.

Just one score separated the two sides in the dying embers of the contest, but Rob Baxter's men secured the victory when James Mcrae was set free following a superb break by substitute Joe Snow. Steenson added the extras making it 4/4 with the boot.
It ended: Exeter Chiefs 28 Bath 14
Attendance: 9,772