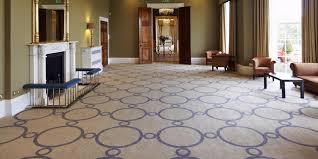 Employees could become part-owners
Axminster Carpets is to be taken over by a newly formed company, ACL Carpets Limited, based in Rydon Lane, Exeter.
Twenty-four year-old Declan Dutfield is one of two directors, representing a group of UK investors that have bought the business. His family has been involved in Axminster Carpets since the mid-nineteenth century. The other director is Gary Bridge, 53, a former Axminster Carpets director. It is expected ACL Carpets will change its name to Axminster Carpets in due course.
The company went into administration in February, with debts of £8 million. With this deal, those debts are written off, so the new company starts with a clean slate, be well-funded by a group of UK investors, and continue to operate from its headquarters in the Devon town.
Robert Day, for the investors, says: "The business has never been in a better position to again become a significant player in the sector. There is a plan to implement an employee ownership model so that the local people who have worked so hard over some difficult years can feel part of the resurgence of this proud company."
Joint administrator Benjamin Wiles of Duff & Phelps says: "The swift conclusion of this process has enabled Duff & Phelps to secure the future of the business. This deal will provide a stable financial platform, ensuring its long-term viability".
Working with Axminster Carpets' new owners, Ulster Carpets have invested in the Axfelt underlay plant in Axminster and Wilton Flooring has secured the lease of the Factory Outlet Shop. These combined initiatives will ensure employment opportunities for the skilled workforce on site and allow the carpet business to focus on its core point of difference in the luxury markets.