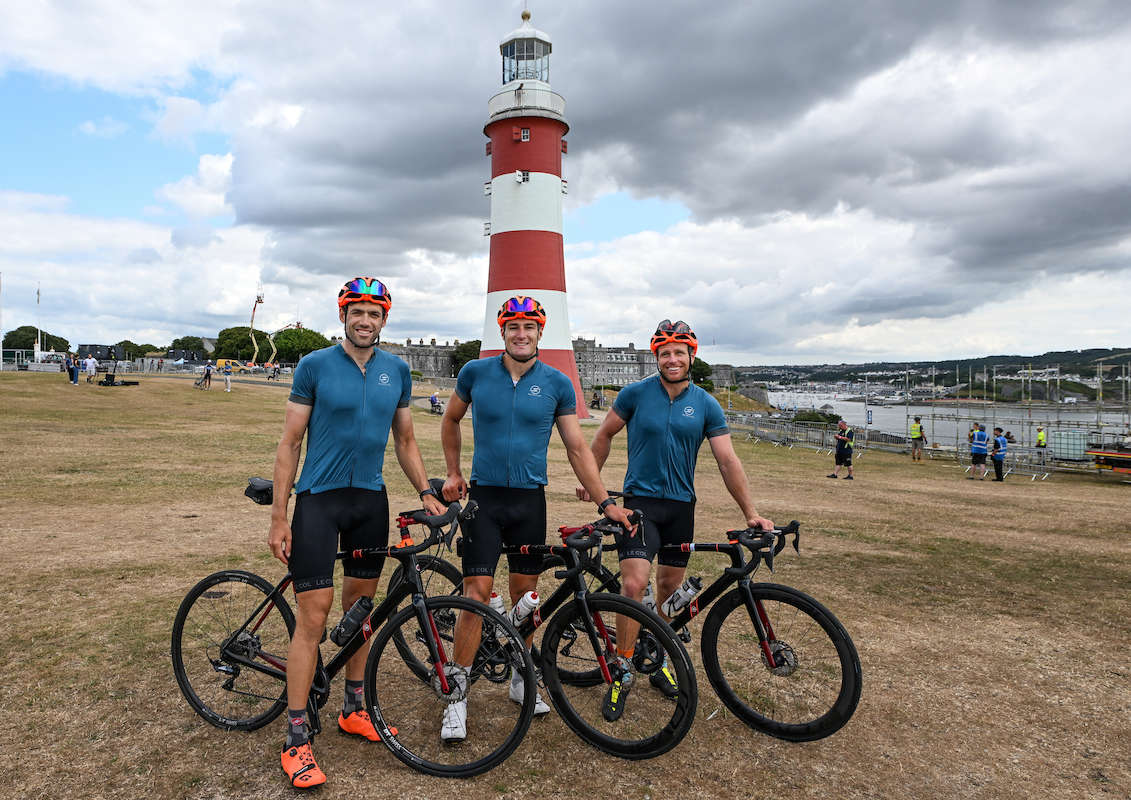 Grand Prix in Plymouth this weekend
Three members of the Great Britain SailGP team have arrived in Plymouth under pedal power after completing a 450-mile cycle ride to the event.
They're in Devon for the Great Britain Sail Grand Prix which takes place this weekend.
Neil Hunter, Matt Gotrel and Luke Parkinson, cycled to Plymouth to keep their team's carbon footprint for the event as low as possible and contribute to making sure this weekend's Grand Prix is one of the most sustainable races SailGP has ever staged.
If you want to see them, you may have to do the same, given the rail strikes mean no trains to the west of Exeter from Wednesday, affecting many services until Saturday.
Hunter and Parkinson each travelled 148 miles from Portsmouth to Plymouth whereas Gotrel undertook 170 mile journey from his home in Gloucester. The trio were joined by fellow sailor, Ben Cornish, who cycled with Hunter and Parkinson from Portsmouth.
Neil Hunter said: "We did about 230 kilometres yesterday from Portsmouth to Exeter, so seven and a half hours in the saddle was a fairly long day but fortunately I have been doing quite a lot of road miles recently so it was wasn't too bad.
"The highlight was probably coming though Dartmoor, where my teammate Matt Gotrel was showing us the sites, so that was pretty special.
"We decided to do the ride as we felt it was a massive opportunity to reduce the carbon footprint of the event. The fact that we have got here completely under our own steam without using cars or trains or buses is great and shows what SailGP is all about.
"For us, as athletes, it shows that you can just take the initiative and think of different ways to have a positive impact. We saw it as a massive opportunity for both training physically and to reduce our carbon footprint at the event. It's been great and we have really enjoyed it."
Councillor James Stoneman, cabinet member for climate change at Plymouth City Council, said: "We're delighted to welcome Neil, Matt and Luke to Plymouth today as they complete their impressive cycle challenge. They've shown such a huge commitment to minimising the team's carbon footprint and to making this year's event as sustainable as possible. It's incredibly fitting that this weekend they'll be racing in the waters of Plymouth Sound National Marine Park, a UK first and a key part of our city's own sustainability goals as we strive for carbon neutrality."
The athletes' decision to rely solely on pedal power to reach the event is a sign of SailGP's ambition to be the world's most sustainable and purpose-driven global sport and the Great Britain team's commitment, alongside its' charity partner 'Protect our Future', to use its
platform to inspire the next generation better understand the climate emergency and give them the tools to take positive action.
It also reflects the work of SailGP's Impact League, which was established 12 months ago to encourage and reward actions by its participants to promote carbon reduction, sustainability and inclusivity.

The efforts of Hunter, Parkinson and Gotrel will help the Great Britain team secure Impact League points as it looks to improve on its current standing of 4th place after two races.
Reflecting on the first 12 months of the Impact League, Great Britain SailGP Team grinder, Neil Hunter said: "As athletes, we are all competitive people, so the Impact League is a great way of encouraging the SailGP Teams to think about different ways in which we can reduce our carbon footprint whilst also making it competitive and engaging.
"Cycling to Plymouth is a reflection of this and means we can use sport to provide a positive contribution to the performance of our team in the Impact League alongside reducing our climate impact."
The Great Britain Sail Grand Prix features nine teams battling in short, intense races in identical hydro foiling F50 catamarans at speeds approaching 100 km/h.
The British boat will be driven by Sir Ben Ainslie, who will be competing in the UK for the first time since the Portsmouth America's Cup World Series in 2016. Tickets are on sale at SailGP.com/GreatBritain.
The event will be one of the most climate positive races SailGP has ever staged. On the shore, it will be the first time in the UK that SailGP has used innovative green technologies to power the entire race village. In the water it will be trialling new electric technologies.