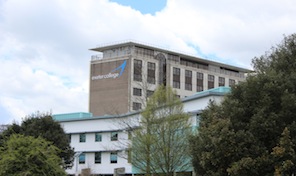 Education secretary heralds "brilliant news"
As he fights to save his job and distract people away from the A level fiasco, education secretary Gavin Williamson has put his whip aside to throw cash at further education colleges.
Four of them in Devon are sharing £4.5 million to repair and refurbish buildings. Exeter College gets about a third of the Devon money, £1.7 million, City College Plymouth receives just over a million, and Petroc and South Devon College each bag around £900,000.
The amount for Exeter College is the largest for any one institution across what the government thinks is the south west, which includes Gloucestershire and Wiltshire.
Mr Williamson, a former government whip most famous for keeping a pet tarantula, has spent the past week defending a formula for deciding A level results which meant disadvantaged pupils were even more disadvantaged, and then ditching the formula. Even many Tory politicians think he's a dead man walking. On Tuesday Mr Williamson published a photo of himself with a large whip on his desk, thought to be a threat that he'll kick up a fuss if sacked.
Unveiling news of the new money for colleges, Mr Williamson says he wants: "to build a world class further education system which delivers for the whole nation...It is brilliant news that more than 180 colleges will receive a share of £200 million so they can start immediate work to renovate buildings and facilities, with further funding being invested over the next five years."
East Devon MP Simon Jupp, whose constituency covers part of Exeter, says: "This is a superb investment in the future of education in our area and a big boost for students from Exeter and East Devon. It will help Exeter College continue to go from strength to strength as a great place to learn and I'm looking forward to visiting again soon."