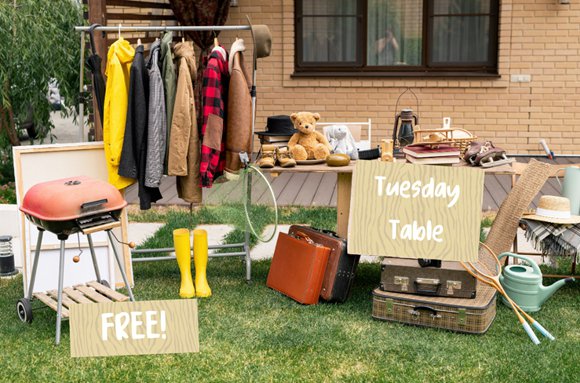 Declutter to benefit others
Here's a chance to declutter your home and help other people in the community at the same time.
From next week, Devon County Council is launching a new scheme called 'Tuesday Tables.'
All you have to do is put anything you don't want any more on your doorstep, front garden, or driveway onTuesday - and let people know you are taking part.
The council asks that items left for collection aren't broken, dirty or potentially dangerous and are not on the pavement or public highway
You then either display a makeshift sign saying FREE or download, print off and display one of the signs fromRecycle Devon's website.
Because of covid, the council asks that items are quarantined for three days in a garage or a box before the event.
If no-one has taken the items by the end of the Tuesday, try again the following week, or perhaps try a local freecycle, Freeagle or marketplace giveaway group. The council says you will be surprised what people will come and collect when it's free.
Catherine Causley, Devon County Council's re-use officer, said: "This is a chance to have a declutter without taking items to the recycling centre and this regular event could save usable items from being recycled and give them a longer life.
"If you are looking for others taking part, to reduce travel & stay local we encourage you to keep to your neighbourhood if at all possible and perhaps walk around where you live as part of your daily exercise.
"We are hoping it will catch on and become something that people will do every Tuesday."
More information, is at the Recycle Devon website: Tuesday Tables - Recycle Devon