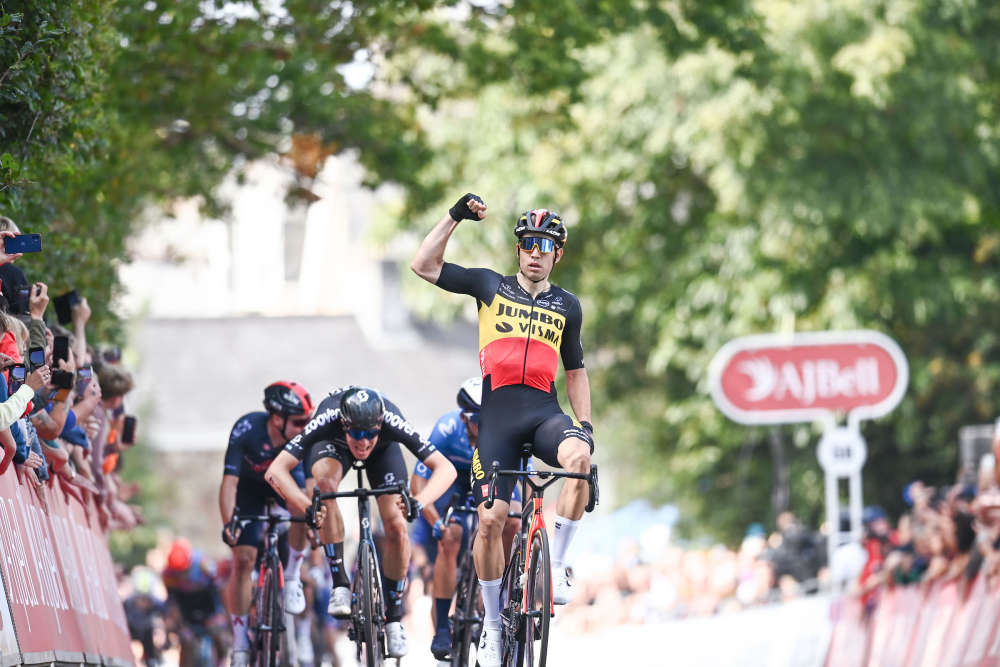 Wout van Aert wins Stage One in Bodmin (courtesy: SWpix/Tour of Britain)
Sherford to Exeter on Monday
For the eleventh time, Devon is hosting a stage of the Tour of Britain cycle race.
The annual event (which missed 2020 because of covid) began in Cornwall on Sunday, following a route from Penzance to Bodmin - which Wout van Aert (Team Jumbo – Visma) won.
Overnight, competitors moved to Sherford, the new town in the South Hams, from where they will race to Exeter, dilly dallying along the way to make up a 184 km route.
The day features three intermediate sprints, the first at Torcross as the route crosses the road along the narrow shingle bar that separates Slapton Ley from the sea, and the other two in Kingsbridge and Tavistock.

Three king of the mountains climbs also feature, the first on the coast at Strete at the end of a 2 km climb from Blackpool Sands. The second and third climbs are in the Dartmoor National Park, the first the 8.7 kilometre climb of Rundlestone above Tavistock, which has been used by the Tour of Britain twice before.

The final categorised climb will be between Postbridge and the Warren House Inn at 434m (1,425ft) above sea level the highest inn in southern England, where the pub's fire has famously been burning since 1845.

The previous 11 tour stages in Devon are estimated to have generated more than £41 million in net economic impact for the local economy, according to the organisers.
Holding this year's stage will cost the county council just under £220,000, which will be split over two financial years. Council leader John Hart shas previously said that, for that money, he "couldn't buy the advertising for Devon" that the event attracts in the national and local press, and on radio and television.
"Nothing is better than seeing a whole pile of cyclists riding along the coastline at Dartmouth and Dartmoor and in that area," John Hart said. He added: "I've been to a couple [of Tour of Britain stages] before and to see the people turning out shows you that it's popular."
It's estimated around 200,000 people in Devon lined the streets to greet cyclists on its last Devon stage in 2018. On Monday, Devon's businesses hope for a boost in trade. Exeter Chamber of Commerce says the event will shine a light on the city, attract visitors and show off the county's coast, countryside and capital city.
Speaking after the first stage on Sunday, leader Wout van Aert said; "Being here it was almost overwhelming seeing the amount if crowds at the side of the roads, we have been missing this in the last two years and it's nice to see people outside again and especially in a crowd together, it's nice to see people are so crazy about cycling, it makes it more beautiful when we win.
"It was a tough stage. It was good for me to adapt to these kind of roads and to get used to them. The stage was controlled and yeah racing, high speeds and obviously on a first day of a race everybody is still fresh so it was a big battle to be at the front for the sprint. My teammates helped me secure a good position and I think I did the right timing in the sprint."