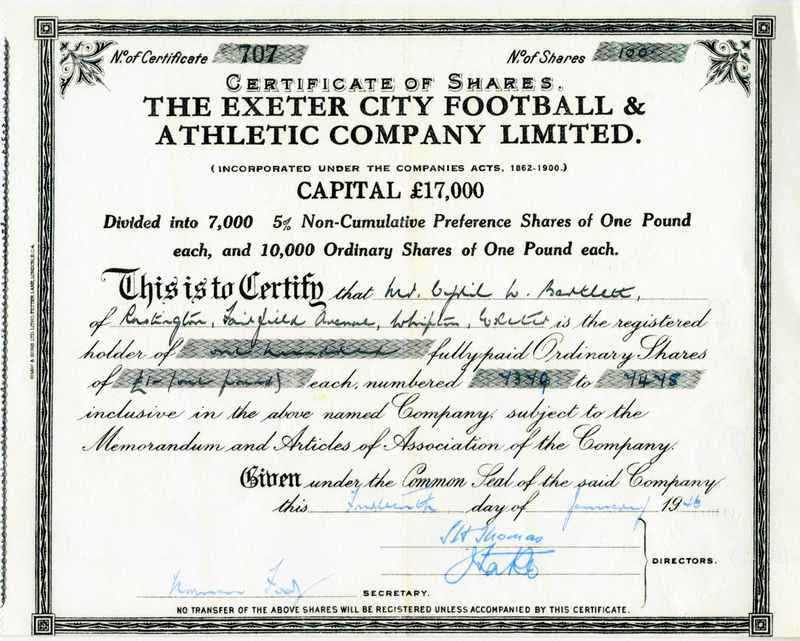 It's unlikely you'll get rich
About 100 people who invested in Exeter City Football Club over the past century - presumably out of love rather than financial acumen - are being sought by the club, which is legally obliged to hold an up-to-date share register at St James Park.
But there are some gaps. It's thought the earliest shares date back to the 1930s and may have been passed down through people's families.
Nick Hawker, chair of Exeter City Supporters' Trust, said: 'The missing shareholders fall into two categories – those we know to have died whose shares were not transferred and those who have moved where we don't have their current address. In quite a few cases we have no address at all.'
The £1 shares have been issued a number of times over the years to raise income for the club. The club says: "Most people acquired them because they were fans and wanted to support the club and as such they are primarily of sentimental value. By owning a share in the club, you are entitled to attend the AGM and vote."
The Supporters' Trust is the largest shareholder, owning 52 per cent of the shares. The next largest is 15 per cent - the club hasn't said who owns this chunk - but the majority of those the club is trying to trace are single shareholders.
Mr Hawker adds: "There were various reasons people bought them, some organisations bought them so they could attend the AGM, others were bought as mementos, people have told us their parents or grandparents had their share framed and hung on the wall. We want to avoid the need to repeatedly send out formal documentation to deceased persons and incorrect addresses. We are making significant efforts to trace all relevant parties."
The Supporters' Trust is offering to buy shares at £1 per share from people who no longer want them, if people wish to take up this offer they should contact shares@ecfc.co.uk
You can write to the Supporters' Trust, marking the envelope 'shares' before Friday 19 June at Exeter City Supporters' Trust, St James Park, Stadium Way, Exeter, EX4 6PX .