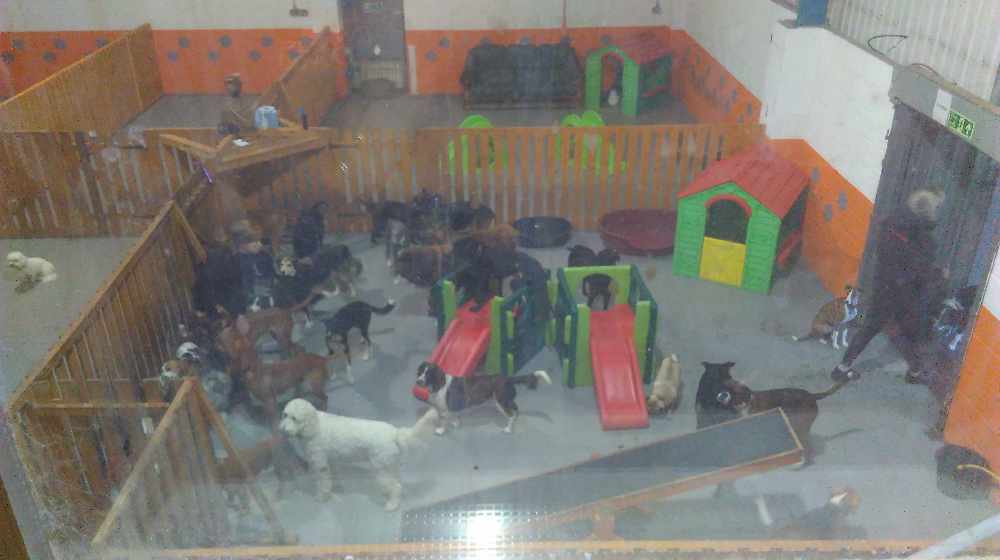 Hard to cat-nap when there's no quiet space
65 dogs in one space is too many, magistrates hear
An East Devon dog care centre has been told to pay £6,500 in costs after losing an appeal against an order to keep dogs in smaller packs.
'A Dog's Day Out' looks after pets at Greendale Business Park near Woodbury Salterton. Until now, it has supervised the dogs in one large group in a warehouse and a concrete yard adapted for the purpose.
East Devon District Council wasn't happy with that, and wanted the owner to keep dogs in groups of no more than 10. They said both staff and animals were at risk of injury caused by dogs fighting or becoming over-bositrous. They felt the owners weren't maintaining the standards required under the Animal Welfare Act, with too few beds for the dogs, and a lack of quiet space for those which want to rest. The council had set out new terms for the company's 2018 licence, but A Dog's Day Out appealed, believing that the terms were unreasonable. According to a statement issued by East Devon District Council, a dog behaviourist and health and safety consultant acting for the company told magistrates that the risk to dogs and staff was low if the dogs were allowed to function as one large group.
For the council, environmental health officer Janet Wallace said she was concerned at reports received from former staff members, some dog owners and council colleagues, that at times there were fewer than four staff looking after 65 dogs. Vet Caroline Bower explained that domestic dogs were no longer pack animals and were accustomed to being kept either singly or in small groups. Although a few breeds of dogs enjoy long periods of play there are many dogs, particularly older ones, who should be able to rest for much of the time and these facilities were not being provided at this premises.
Magistrates decided that the council had been reasonable in imposing the conditions, which are similar to those included on other dog day care licences in East Devon, and dismissed the appeal. Costs of almost £6,500 were awarded to the council.
After the appeal hearing, Councillor Steve Hall, chairman of East Devon District Council's licencing sub-committee, said: "Our officers are well trained and experienced, visiting both dog and cat boarding premises throughout the year and encouraging the highest standards of good practice and consistency.
"New licensing regulations will come into force in October and this judgement will assist our officers in continuing to make the right, reasonable, decisions about the conditions on the licences of anyone charged with looking after pets and other animals for payment.