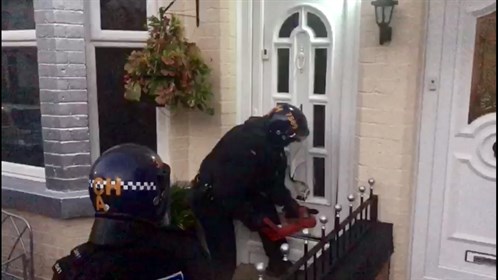 Image: Merseyside Police
Police working with officers in the North
A number of drugs raids have taken place across Devon this morning (Thursday 8th November).
Local officers are working with teams from the North West Regional Organised Crime Unit.
In total 30 warrants were executed in Devon, Cornwall, Greater Manchester and South Wales and following an extensive investigation into the trafficking of Class A and B drugs into Devon and South Wales between 1st March 2017 and 8th November 2018.
9 people were arrested this morning, with 5 others already arrested.
The investigation identified members of Organised Crime Groups in Merseyside, Devon and South Wales who are suspected of conspiring together to arrange the supply and distribution of heroin and cocaine in the Plymouth, Exeter and Torbay and amphetamine in South Wales.
During the investigation, heroin, cocaine and amphetamine with a total estimated street value of £5million has already been seized from Merseyside, Devon and South Wales.
It is alleged members of the Merseyside group relocated to Devon to arrange the supply of drugs in a County Lines operation, targeting vulnerable members of those communities and storing drugs in the area. County Lines is when criminal gangs typically vulnerable people to transport and/or deal drugs.
Detective Chief Inspector Ian Hussey of Merseyside Police said: "Vulnerable people are being coerced, groomed and threatened by violence to take part in illegal activity across the North West and further afield.
"Many of these people feel that they have not got a choice and struggle to find a way to escape from the hurt and harm that they are enduring on a daily basis.
"We are targeting those people we believe are exploiting vulnerable people to profit from the misery of others.
"Across Merseyside, we are working to tackle this issue day in day out and today's action has re-enforced to those involved in this type of criminal activity that we will not put up with it.
"Alongside our colleagues at the North West Regional Organised Crime Unit and forces around the country, we will use a range of tactics to put a stop your criminality and take you off our streets.
"We have also been working with a range of partners, to go into schools and youth groups, to educate vulnerable young people on how they can avoid becoming a target to these criminal group and give those vulnerable people caught up in this the confidence to break out of the cycle."
DCI Hussey added: "As well as enforcement and education amongst young people, I would like to take this opportunity to remind everyone to make themselves familiar with the signs of someone they know might be being exploited and I would encourage anyone who has concerns to get in contact – speak with us directly or anonymously through Crimestoppers. For more information on how to spot the signs someone may be being exploited visit.
Devon and Cornwall Police has been asked for comment, but say it is still a covert operation.