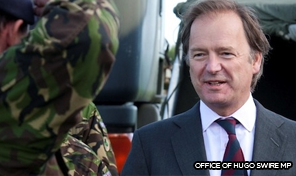 Sir Hugo's quitting as East Devon MP
Sir Hugo Swire tells Tories he won't stand
With a general election thought to be just months away, East Devon has become the latest constituency not to know who will be the Conservative party candidate.
Exeter hasn't got a Tory on its election list yet. And now, after 18 years representing East Devon, Sir Hugo Swire says he's calling it a day. The true blue Conservative, who is son-in-law of Tory grandee Sir John Nott (who was defence secretary in Margaret Thatcher's government at the time of the Falklands conflict), and who was roughly an Eton College contemporary of former prime minister David Cameron, took over East Devon from the late Sir Peter Emery.
East Devon has been Tory held since the 1930s, when it was known as the Honiton Constituency (and before that, it was held by the Unionists, which is much the same thing). But in the last two general elections, independent candidate Claire Wright has chipped away at his majority. Nonetheless, at the 2017 election, Sir Hugo, who was knighted in David Cameron's resignation honours list shortly after the European referendum, took nearly half of the vote.
However, the seat is at its greatest risk for the Tories since local government reorganisation in 1974 and arguably since the second world war. With the country in turmoil over Brexit, the party has very little time to select a candidate, who will then need to work hard at the doorsteps to build a following. The local council, which had also been Tory in most people's living memory, moved to the control of a group of independents in the local elections earlier this year.
In his letter announcing that he won't stand again, 59-year-old Sir Hugo, who voted 'remain' in the referendum and who latterly supported Boris Johnson in the Tory leadership election says: "We live in challenging political times but I remain convinced that to bring the country back together we need to deliver on Brexit."
He says he will continue to serve East Devon to the best of his ability until the election is called.
Independent County Councillor for East Devon Claire Wright responded on Twitter with:
"Party Politics is in turmoil. I stand ready to take on the issues that matter to people here in Devon East of health services straining to cope, underfunded schools and the irreparable damage to our environment under the watch of the current Conservative government, which lurches from one crisis to another and has put narrow party political interest above the needs of local people."