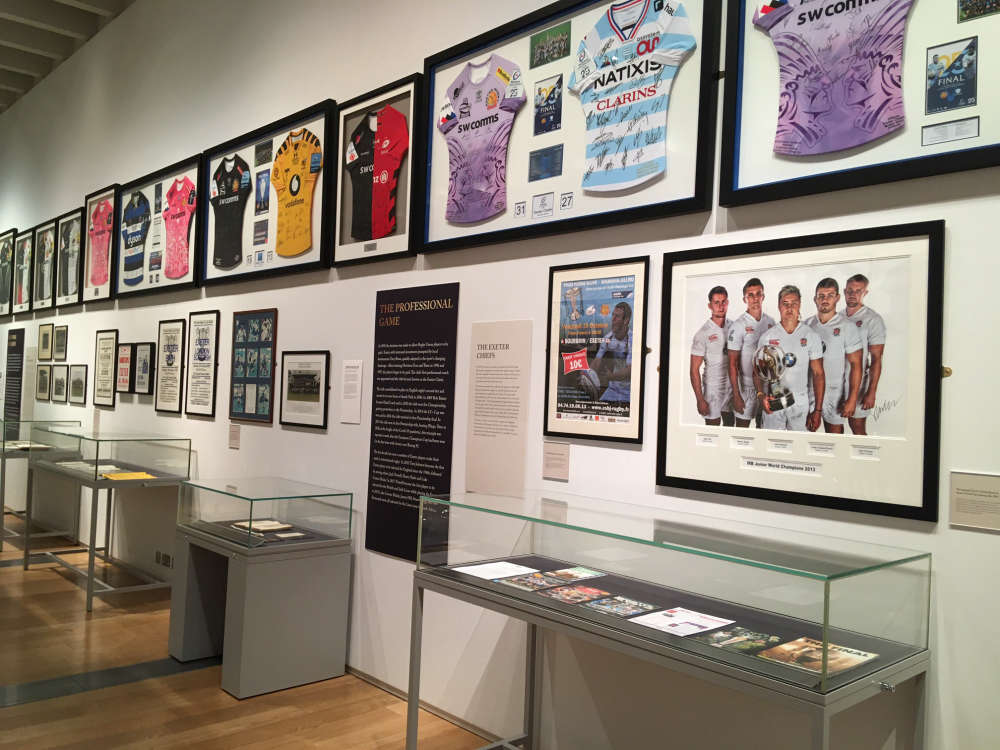 150 not out! (image courtesy: Royal Albert Memorial Museum)
Old enough to be in a museum
Exeter's highest profile organisation is 150!
Exeter Rugby Club, the official name of the Exeter Chiefs, believes it was formed in 1872. Documents are a bit iffy; one suggests 1871, another 1873, so they've done what any reasonable person would do, especially when everyone who knows the truth is long dead, and chosen the date in the middle.
Now the city's most important art institution, the Royal Albert Museum & Art Gallery (RAMM) on Queen Street in the city centre, has opened an exhibition celebrating the landmark.
Packed with Exeter Rugby memorabilia from the nineteenth century to the present day, including shirts through the ages, poignant pieces in tribute to players lost in two world wars, and the Premiership and European Champions trophies, both of which are much, much more recent, it's an exhibition any follower should visit.
Some of the objects donated to the exhibition have come from fans, who have sifted through dusty cupboards and wardrobes to find gems to display.
Exeter Rugby Club chairman Tony Rowe OBE said: "A huge amount of work has gone into creating what we believe is a fantastic, historical journey through the years of our great club. Some of the artefacts that have been unearthed are extraordinary, yet detail how the club was formed and how it has developed over the many years."
Deputy leader of Exeter City Council Councillor Laura Wright said: "Exeter Chiefs are an integral part of the city's identity, and being able to find out so much about their history through this exhibition at RAMM will be a fascinating experience for everyone. It's great to see two of our oldest institutions – the Chiefs and the RAMM – working together."
The museum is complementing the exhibition with craft activities for children, opportunities to meet players, and 'have a go' days.
150 years of Exeter Rugby Club: From local heroes to European champions runs until Sunday 28 August 2022.