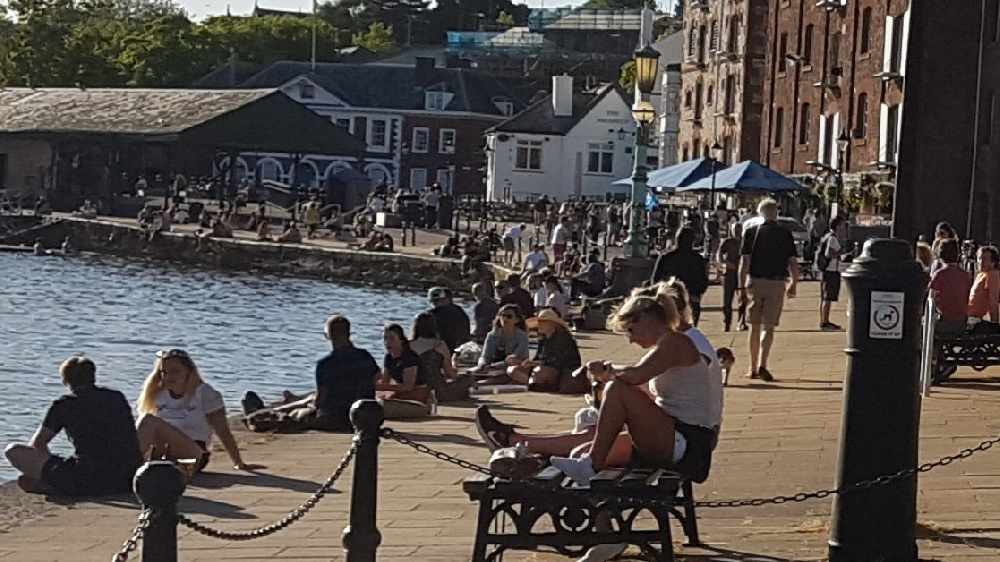 Exeter Quay on Friday (courtesy: James A.)
Quay behaviour worsens daily, says Prospect
Some people in Exeter seemed to adhere to their own interpretation of social distancing on Friday as they flocked to the Quayside like covid-19 doesn't exist.
Anti-social behaviour rose as people, some not adhering to the regulatory two metres, headed for the beauty spot to strip off, dump litter and shout abuse at staff working at the local businesses. Not everyone, of course. But enough for it to be a difficulty for The Waterfront and 'Prospect Inn' according to some people in the area.
Social media shows pictures of bins overflowing and pavements strewn around. People were enjoying takeaway food and drink, as the regulations allow - but some took the freedom a bit too far.
On Saturday The Prospect Inn decided to close until further notice, placing metal fencing around the perimeter to stop people urinating against its walls.
Writing on Facebook, they say: "It is with a very heavy heart that we announce that tomorrow night will be our last night providing a takeaway service. We would like to thank our friends and customers for your loyal support.
"The anti-social behaviour on the Quay worsens day by day, but tonight was the final straw: abuse, harassment, urination and public nudity. The pub will remain closed until it is safe to re-open to keep our customers, Quay residents and our family safe. We will be further securing our property to prevent the use of our tables and damage."