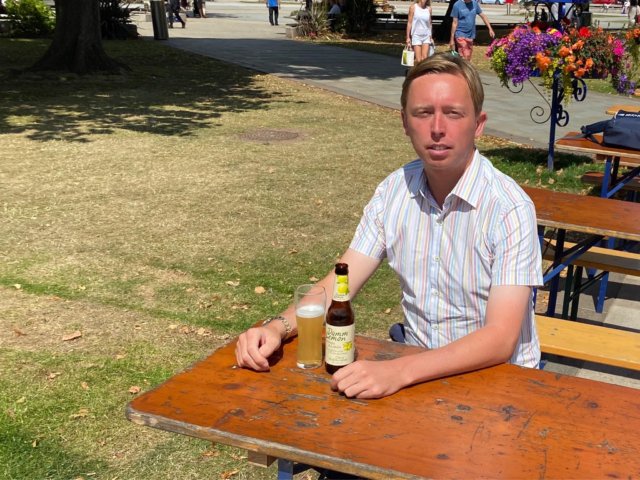 Spoken owner George Nightingale (courtesy: Spoken)
Council's £1,000 fine stands
Two Exmouth bars say they could face permanent closure after East Devon District Council fined them £500 each for putting seating outside their premises without a licence.
Spoken, in the Strand, and the Grapevine, a pub on Victoria Road, each applied for licences after lockdown restrictions were lifted, but the district council based in Honiton says Exmouth police raised concerns. That meant there wasn't time to go through the proper process before the first weekend when bars and restaurants were allowed to trade again.
Nonetheless, the owners of the hostelries expanded into the fresh air. They say that meant they could operate within government guidelines on social distancing. After nearly four months without customers, they were able to bring in some business at last.
But East Devon District Council is applying the law. They say they want: "to support businesses to operate in a safe, responsible and legal manner, and as an authority we are working to the spirit of the government's announcements regarding relaxation of the regulation for Pavement Licences. The changes to this regulation are still making their way through parliament and once the act (Business & Planning Bill) comes into place we will administer the licences.
"The Pavement Licence process will streamline applications for use of outside spaces that form part of the public highway, but until this becomes law, landowners' permission along with a temporary events notice may be required, to ensure uses are safe, legal and comply with licensing and planning regulations."
They're blaming Spoken and the Grapevine for jumping the gun and say they "have tried extensively to help both businesses." Because the bars went ahead without a temporary licence, they've each been fined £500, made up of two days use of the land at £125 a day and £250 legal costs.
That's despite the council not incurring any extra legal costs for which it has charged the businesses. It didn't instruct lawyers, although it did ask advice from its own in-house legal staff. Furthermore, the council says it reduced the normal daily fee for using its land from £158 to £125. When the new pavement licence is introduced it is planning to charge businesses £100.
The council says: "This all could have been avoided if the two businesses had worked with us in good time and through the proper processes to allow use of the Strand space. The actions of the businesses in using the Strand space without consent on the 10 yo 12 July and serving drinks in open containers in contravention of their premises licence conditions have now left us with no recourse other than to use the formal temporary events notice procedure."
On Facebook, Spoken owner George Nightingale wrote: "Some will think we just did as we pleased and deserve it. I'm pleased to say that is not the case. We hope to have some direction now to move forward but the £500 fine remains. We will be challenging this and as you can see the imaginary line between council ownership with different processes, charges, licences et al is ridiculous for the proper and considered use of this land."
Radio Exe has asked Exmouth police what concerns they raised about Spoken and the Grapevine serving customers outside their premises but has not yet received a reply.