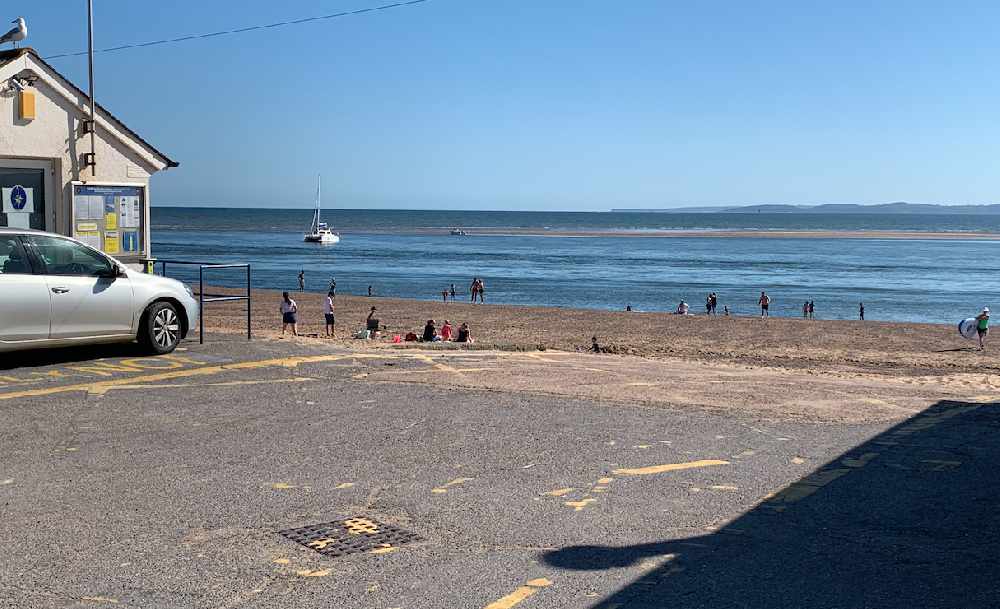 Enter here and wouldn't know the danger
Where's the danger now?
It's a notorious stretch of coastline: small and potentially fatal. But people taking a dip in the sea off Exmouth right now wouldn't know it.
For years, signs have warned people not to paddle or swim in the sea between a point opposite what used to be Exmouth Fun Park (now a temporary - and closed - council recreation facility) and about opposite the Bath House pub. But these are estimates, because for some time, the danger signs have not been in place, nor do red flags fly to show the danger.
Three East Devon District Council "no bathing allowed" signs are in place, but they are located in positions which not all people using the beach will see, including a major entrance between the former St John Ambulance station and Harbour View Cafe. This weekend scores of families took young children paddling.
Radio Exe believes the starting point for the dangerous current is roughly around the site of what will be the new watersports centre, going west for about 400 metres. But it's a rough guess, because no 'danger' signs are displayed. Permanent signage does include a message not to swim when red flags fly - but as there are no flags at all, people could - and are - assuming that the water is safe.
Exmouth Coastwatch's website says: "At Exmouth, the sea approaches to the estuary can be dangerous in strong onshore winds and well, as can the strong tidal and wider streams inside the estuary mouth."
Over the years, people have lost their lives having entered the water at this point. The RNLI locally has told Radio Exe that the signs on Exmouth beach are the responsibility of East Devon District Council. We have asked the council why signs now contain milder 'no bathing' rather than 'danger' messages and are not visible at key points, but we have yet to receive a reply.
One local resident said: "No bathing is a strong a warning as 'no dogs'. Some people think it's optional. Few people would want to put their lives or their children's lives in danger, but they're in the sea at a dangerous point."
In May, the RNLI's national media team said in a statement: "Whilst RNLI lifeboat crews and HM Coastguard are still on call ready to respond to emergencies, the message is clear; we need the public to be aware of dangers, take responsibility for themselves and their loved ones and remember that, in an emergency, call 999 and ask for the coastguard."
Someone working in water safety in the south west who did not wish to be named also reflected that message: saying the sea is always dangerous and it is for people to respect the dangers and take care.\
UPDATE: On Saturday 30 May, Exmouth Coastwatch updated its information, directly readers to a new sign, indicating the danger area, below. However, a nearby East Devon District Council sign 50 metres east contradicts the sign and points in the other direction. All very confusing.