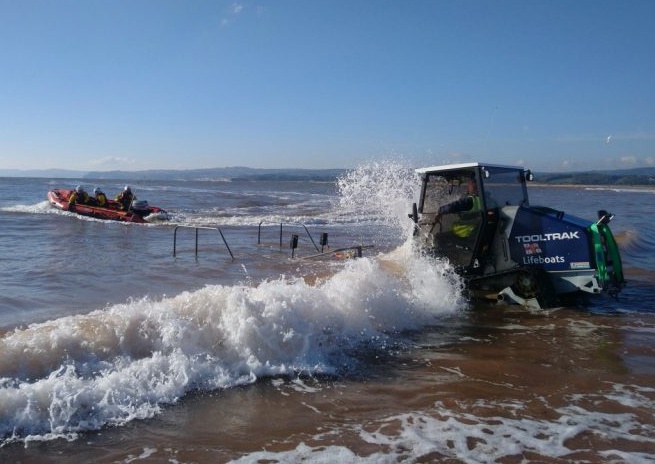 Exmouth's inshore lifeboat launches on Tuesday at dusk (courtesy: Exmouth RNLI)
Inflatable's power had broken down
Three people have been towed back to shore after their rigid inflatable boat broke down off Straight Point, Exmouth on Tuesday evening.
The coastguard called the RNLI's inshore lifeboat into action around 8.45 pm and the crew was on the scene within 20 minutes.
The lifeboat was launched shortly afterwards and reached the location of the casualty vessel by 21:05hrs. The vessel, without power and drifting, was secured and towed towards safety. A short time later the tow was handed over to another boat, crewed by friends of those on board the casualty vessel, and taken to safety.
There was no damage to the boat and none of those on board sustained injuries or required medical assistance.
Helm Scott Ranft said, 'We acted on a report of a rigid inflatable boat with three occupants on board that had broken down and drifting off Straight Point. Myself and my crew were able to reach the boat very quickly where we fixed a tow and assisted the vessel back to safety."
After the rescue, the crew headed back to Exmouth Lifeboat Station where it was back ready for service before 10 pm.