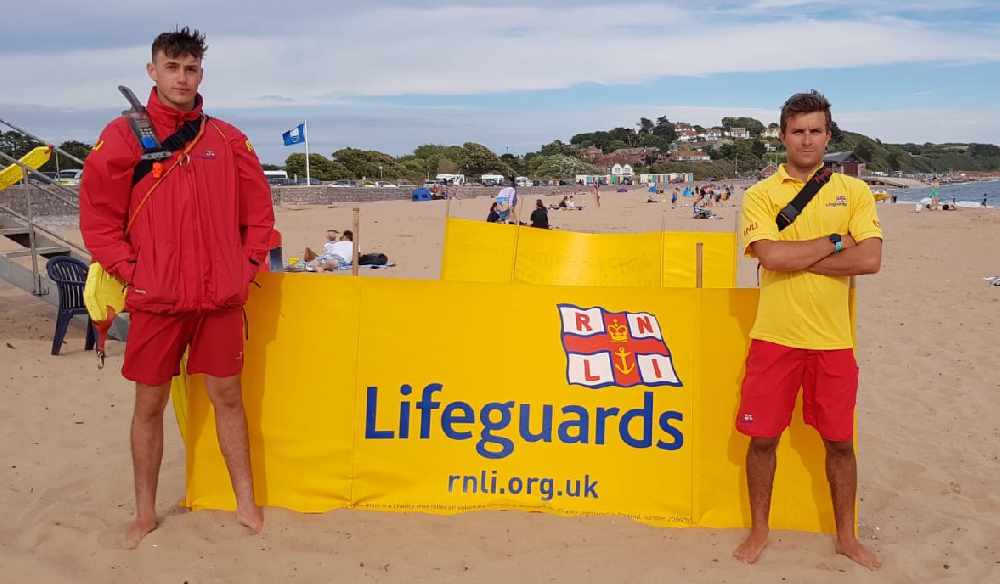 RNLI lifeguards Kaifen Phippen and Alex Sanger-Anderson (courtesy: RNLI)
Early start for RNLI
East Devon District Council's asked the RNLI to provide lifeguard cover on Exmouth beach over the Easter Bank Holiday weekend (Friday 2 April to Monday 5 April) - and the answer's yes.
The lifesaving charity has been working with partners behind the scenes through the challenges of lockdown, to recruit, train and prepare their lifeguards for what is expected to be another busy summer.
The first beach patrols, including in Exmouth, will start at Easter.
The RNLI are encouraging the public to follow government advice on social distancing, travel and contact with others when visiting the beach to keep themselves and our lifeguards safe.
RNLI lead lifeguard supervisor for Exmouth Henry Irvine said: "We're really pleased to be able to provide additional safety cover on Exmouth beach this Easter. While lockdown restrictions will remain in place, we expect people will want to make the most of their time off over the long Bank Holiday weekend and for many this may involve visiting the coast.
"We'd urge anyone wanting to go into the water to visit their nearest lifeguarded beach and swim between the red and yellow flags, having lifeguard patrols on Exmouth allows those in East Devon to access this service without having to travel too far.
"RNLI lifeguards will provide four days of cover over the Easter weekend and on weekends and bank holidays up until 29 May, when they will then provide full time patrols as is their usual service on Exmouth beach until 5 September when patrols will be weekends only until the end of the month.'
In 2020, RNLI lifeguards covering the south west saved 56 lives, aided 9,179 people and responded to 6,287 incidents which included water rescues, minor first aid and helping to reunite missing children with their families.
Councillor Nick Hookway, EDDC portfolio holder for culture, leisure, sport and tourism and Councillor Geoff Jung, EDDC portfolio holder for coast, country and environment said:"We are really pleased to provide support to the Royal National Lifeboat Institution for beach lifeguard provision for Exmouth beach again this year.
"We are also pleased that this year we will be able to have lifeguard cover from before Easter and this will continue throughout this coming summer which we expect to be exceptionally busy.'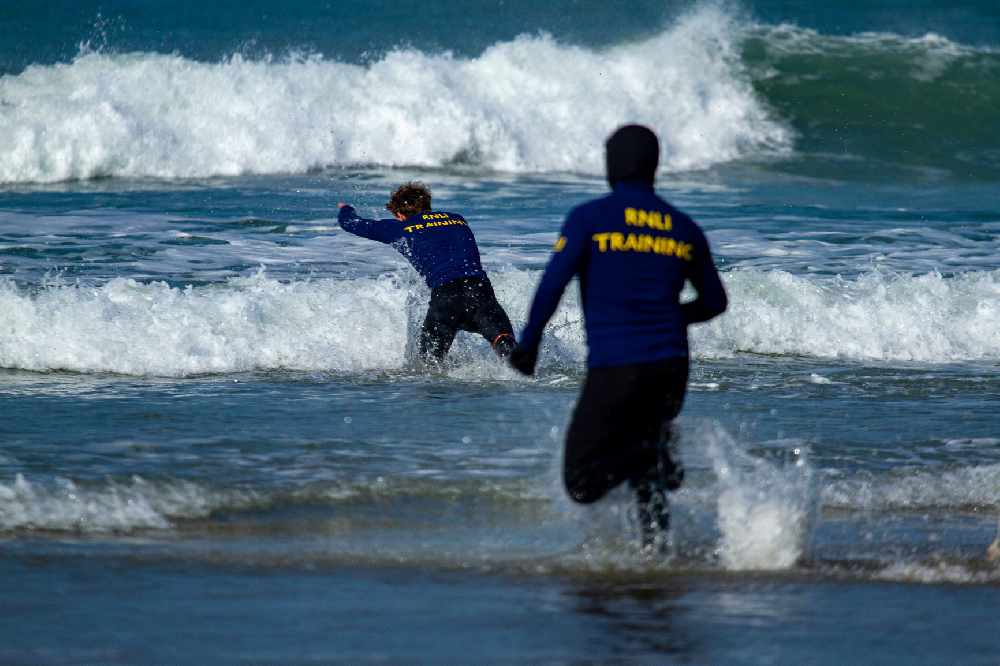 RNLI lifeguards training (courtesy Vince Timson MS)
Each year the RNLI works in partnership with local authorities and landowners to set up and roll out the lifeguard service, which is complex in normal times even without the challenges of doing so during a pandemic.
The RNLI is urging anyone choosing to visit the coast to make sure they keep themselves and their families safe by following beach safety advice;
Visit a lifeguarded beach and swim between the red and yellow flags – find your nearest at rnli.org.uk/lifeguardedbeaches
Check the weather forecast, tide times and read local hazard signage to understand local risks
If you fall into the water unexpectedly, FLOAT TO LIVE. Fight your instinct to thrash around, lean back, extend your arms and legs, and Float.
In an emergency dial 999 and ask for the Coastguard.
If you are a local business near the coast you can help the RNLI share key water safety messages and save lives by becoming a local ambassador . As a local ambassador you can help be the eyes and ears in your community by helping the RNLI share important water safety messages with more people. To find out more visit: https://rnli.org/support-us/volunteer/volunteering-opportunities/rnli-local-ambassador