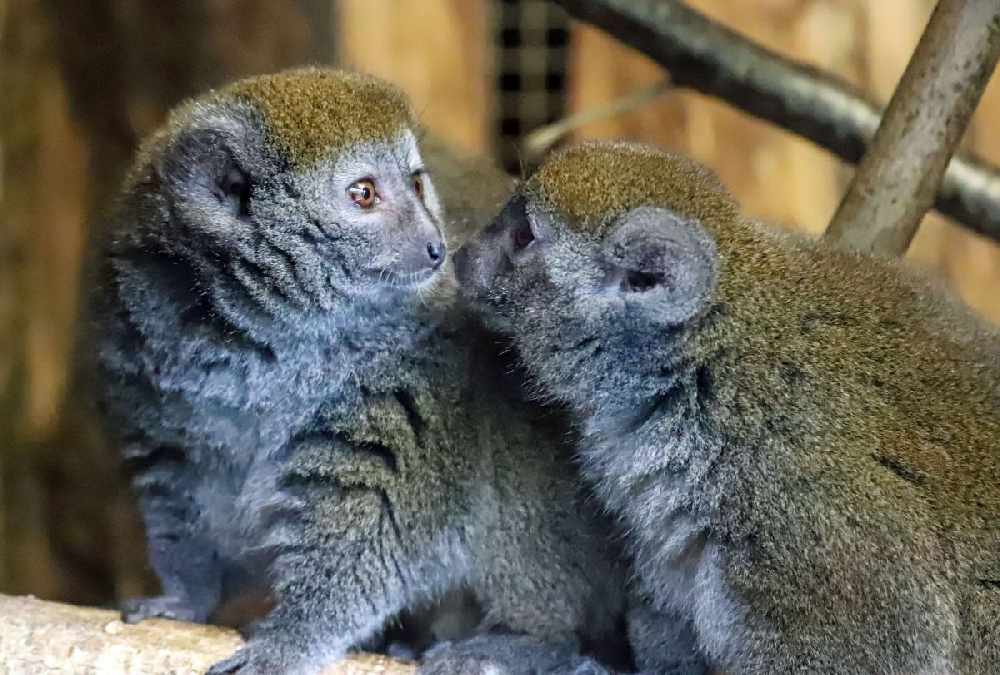 Rosie (left, possibly right) and Jim (right, possibly left) - it's hard to tell without turning them over
Zoo's two-year hiatus because of TB ends
Meet Rosie and Jim. They're gentle lemurs, and not only are they a new species for Paignton Zoo, they're the first mammals to arrive at the attraction at all following a two-year break owing to restrictions because of TB.
Not that Rosie's travelled far, having made only a 10-mile trip from Shaldon Wildlife Trust. Jim, who was sadly nameless before hitching up with Rosie, is a European migrant, having made the trip from Hungary. But all gentle lemurs come under the official control of the Madagascan government and the babies (of the gentle lemur, not necessarily the Madagascan government) are said to be especially cute. It's hoped that Rosie and Jim will prove that in due course.
Attractive though the adults may be too, they don't much like other lemurs. So whilst the ring-tailed lemurs, red-fronted lemurs and red-ruffed lemurs enjoy Lemur Wood, their home at the zoo, the new gentle lemurs - whose full title is Alaotran gentle lemurs - are taking over an island formerly occupied by swamp monkeys.
Senior head keeper of mammals Rob Rouse says: "This is a milestone on the road to recover after two years of TB restrictions. We were unable to move mammal species in or out of Paignton Zoo. It takes time to get going again and bring in new animals - it's not a simple process. People have been very supportive and understanding, and we want to thank everyone locally and from further afield."
There aren't many gentle lemurs in the UK and only 78 in Europe. They're critically endangered, so some of those cute babies are much needed. Jump to it Rosie and Jim!