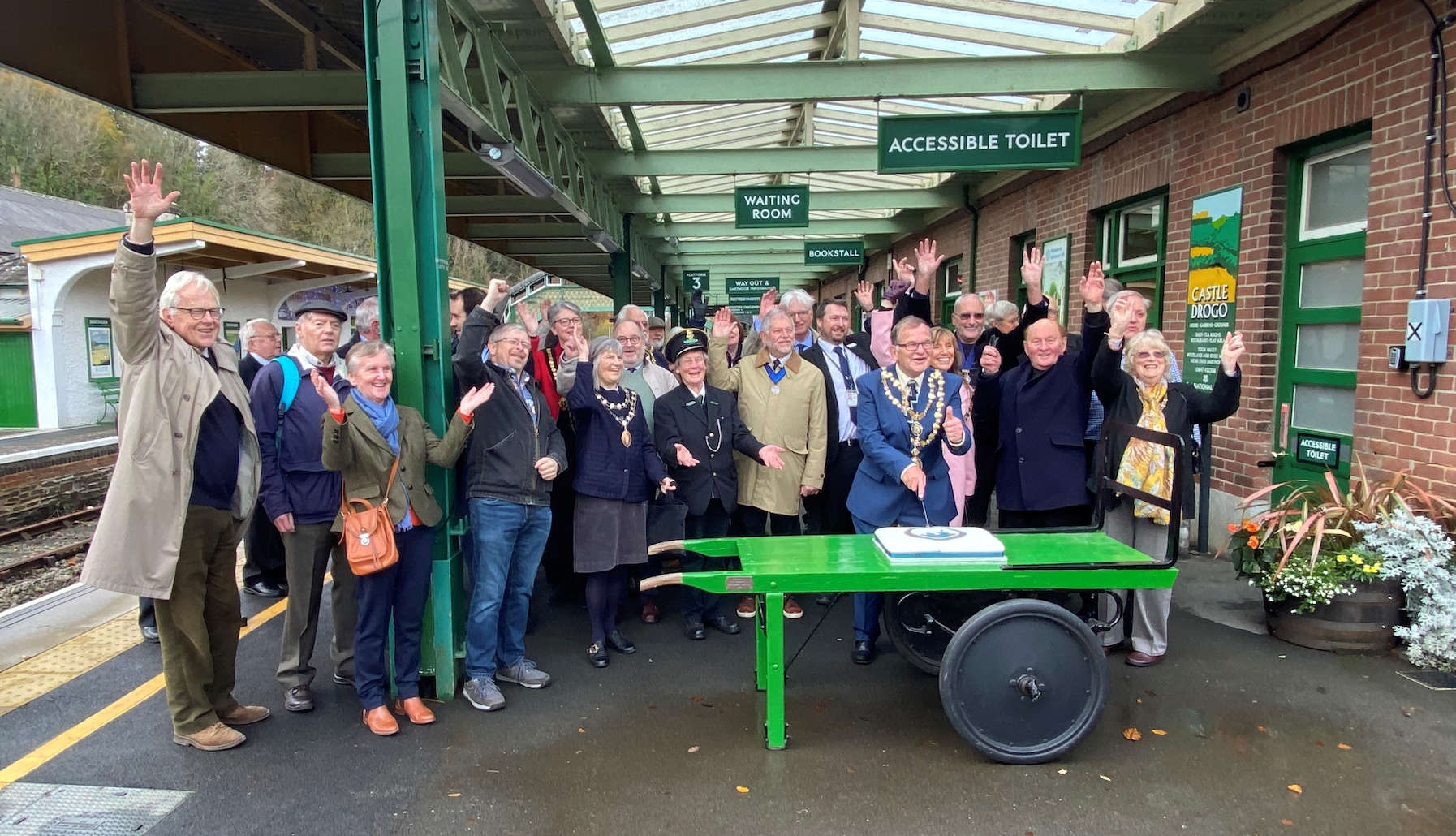 Half a million journeys in two years
The first line that reopened under a government programme to bring back lost railways has far exceeded expectations with 550,000 journeys in the first two years.
Okehampton Station has held a special birthday party to celebrate the positive impact the return of the passenger service to Exeter has had on the town.
Network Rail officials said the success of the Dartmoor Line, which reopened with £40 million of government funding after 50 years, had "blown our minds".
And mayor of West Devon Cllr Lynn Daniels (Green, South Tawton) said: "I'm so proud to be here on this second anniversary. It shows the effort, work and persistence of the people who tried so hard for more than a decade to get this line reopened."
The first of the government's Restoring Your Railways project, the Dartmoor Line was delivered in under eight months and £10-million under budget on 20 November 2021 . The two hourly service quickly became hourly and is said to be well used by commuters, shoppers, students and tourists.
Okehampton mayor Cllr Allenton Fisher said the station puts the town on the map and it would soon have a second station two minutes drive from the A30, which would bring in more passengers from communities West Devon and North Cornwall.
Okehampton Parkway Station will be built within two years with £13.4 million of levelling up funding and will include more parking space than the current station.
"I have been on this train 30 or 40 times and in the past year [and] every time I have been on it it's full," said Cllr Fisher. "We all think it's shoppers going to Exeter, but a lot of people are coming to Okehampton to go walking and it only costs just over £4, so it's pretty cheap.
"If our students can't study what they want at Okehampton, they go to Exeter and it's making such a big difference to them being able to get the train. It must have taken a lot of cars of the road. It's a brilliant service."
"This railway has proved it is of value and of use to the local community," said Richard Burningham, chairman of the Devon and Cornwall Rail Partnership. "The absolute key thing railways are about is getting people from A to B and being useful to people's lives and this line is doing it in spades.
"Some 550,000 journeys in two years is way, way above what the projections were."
He said that there is now a firm commitment from the government that a rail line would return from Tavistock to Plymouth, so things are looking good for West Devon.
Last month the prime minister scrapped part of the HS2 project in favour of improving the rail network across the country. Tavistock would be one of the schemes to go ahead with diverted funds.
Dr Michael Ireland, chairman of the campaign group OkeRail, is delighted with success of the railway, He said people can now get buses to the station from Tavistock, Bude, Holsworthy and Launceston. Mayors from those towns joined the party celebrations.
Matt Barnes, GWR head of strategic service development, said the Dartmoor Line is testament to hard work and seizing the right opportunity at the right time. He hoped it would pave the way for other similar projects in the future.
Councillor Andrea Davis, Devon County Council cabinet member for climate change, environment and transport, said: "Two years have flown by since the Dartmoor Line reopened and in that time the passenger numbers have been nothing short of incredible. All of the partners involved in reinstating the line between Okehampton and Exeter recognised how important these rail services would be, but their popularity is over and above what anyone predicted.
"The Devon County Council funded integrated bus service 118 to and from Okehampton Station is also ensuring that the benefits of the Dartmoor Line have a much wider impact as well, which is great news for our local economy."
An impact evaluation of the Dartmoor Line is currently be conducted. It will assess the extent to which the line has benefited the local community since re-opening. The findings expected to be published next spring.