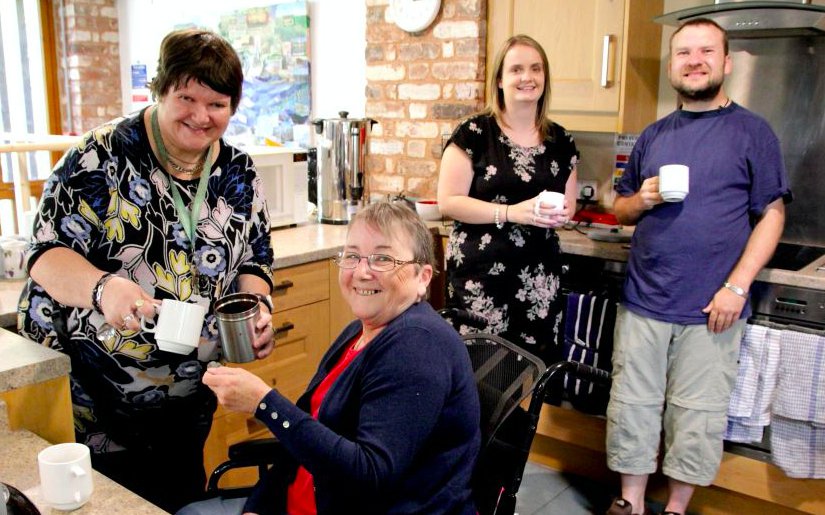 It's providing extra support during pandemic
A Devon-based charity is providing a lifeline for vulnerable adults with a brain injury during the covid-19 pandemic through remote support.

Some of the community's most isolated members were left with nowhere to turn as lockdown commenced and they were cut off from their family, friends and the outside world. Thankfully, brain injury charity Headway Devon stepped in to ensure brain injury survivors in the local area were properly supported. As well as telephone welfare calls and shopping for food, they've undertaken one-to-one video calls to help with cooking and Zumba classes to keep fit during isolation.

Rachel Williams* is just one of the many brain injury survivors who has been able to take advantage of this support. At just seven years old, Rachel sustained a brain injury in a car accident and her life was turned upside down. Thankfully, she found Headway Devon and has now been a service user there for more than 15 years. But the UK-wide lockdown meant that she could no longer attend the charity's day centre, and many members of staff worried about her wellbeing without this support mechanism in place.

Headway Devon was quick to put in place new remote services, tailored to the needs of each individual brain injury survivor. Following her brain injury, Rachel struggled with motivation – something that has only been exacerbated since the lockdown began – and she began to find it difficult to walk her dog each day.

That's when Headway Devon stepped in. Debbie Davis-Briggs, community support team lead, video called Rachel whilst she walked the dog. Debbie stayed on the phone for the entire dog walk, providing a listening ear for Rachel and cheering her on every step of the way.

Also making the most of the support on offer at Headway Devon is Angela Wilson*. Brain injury survivor Angela wanted to learn how to make sausage rolls, so along with her regular shopping, a member of staff picked up the ingredients needed and showed her how to make sausage rolls through a video call.

As well as this, staff and volunteers from Headway Devon's day centres are checking in with clients by making welfare calls and delivering food and medication. The centres provide online meetings each week where clients interact with staff and peers, take part in quizzes and enjoy group games.

As many of Headway Devon's clients are unfamiliar with technology, the centres are also supporting these individuals by delivering care and entertainment packages which include crafts, puzzles and word games, as well as carrying out some face-to-face welfare checks and continuing to support people to access the relevant benefits.

Chief executive Ruth Wells said: "Vulnerable people like Rachel and Angela need the support of Headway Devon now more than ever before.
Following a brain injury, survivors may experience feelings of loneliness and isolation, something which is heightened when you are shut off from the outside world.

"Some of these people may not have any family or friends to rely on and Headway Devon may be their only support system. That's why it's of critical importance that we do whatever we can to support these vulnerable members of our society, whether that be through remote or virtual services.

"We must ensure that no brain injury survivor falls through the cracks of the care system, left unnoticed and without support at these challenging times."

But Headway Devon is now appealing for support following the impact COVID-19 has had on its finances. "The pandemic has had a staggering effect on our finances, and we estimate that we need to raise £27,000 to enable us to continue our work and support our clients through this worrying time.

To donate, visit Headway Devon's Virgin Money Giving page.