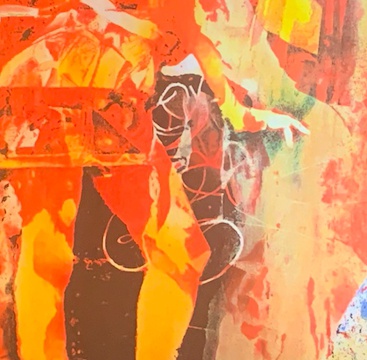 Detail from image of Welsh National Opera's 'Carmen'
Cock and bull story has surprising visual
A new production of a classic opera getting its Devon premier caused a gasp or two this weekend when the main image shown on and off throughout the show appeared to display a set of genitalia.
Welsh National Opera's version of Carmen, a saucy French opera combining romance and bullfighting, opened in Cardiff in September. Saturday's performance at Plymouth's Theatre Royal was the first time it had taken to the English stage.
Carmen tells the story of a gypsy seductress who, in the tradition of great operas, is dead at the end - and contains some of the genre's greatest hits, including the famous toreador song. It is full of sexual frission and the producers appeared to have given this version an added visual aid.
One astonished audience member said: "I was shocked, At first I thought what a great backdrop they'd put at the front. Then I spotted the phallic symbol. No bull, I was completely put off my ice cream."
The black and white graffiti-style drawing on a backdrop of red and orange female body parts is a recurring part of this production. "It kept popping up every half-hour or so," said one lady. "It really gave me the willies."
Another member had concerns about the impact on his wife. "It was really hard on her. I've just come for the ride really. Don't like opera much, although this had an exciting climax."
Most of the audience didn't seem to notice and maybe the handful of people who did could just have filthy minds. Or it could have been a cock-up on the producers' part. Nonetheless most theatre-goers were thrilled with the show and many gave it a standing ovation. Said one: "Sex, violence, murder. Cute children. Attractive women. And an enormous willy. I'm definitely booking again when it comes back to Devon in April."
Radio Exe's review of 'Carmen' by Welsh National Opera at The Lyric, Devon will be published shortly.