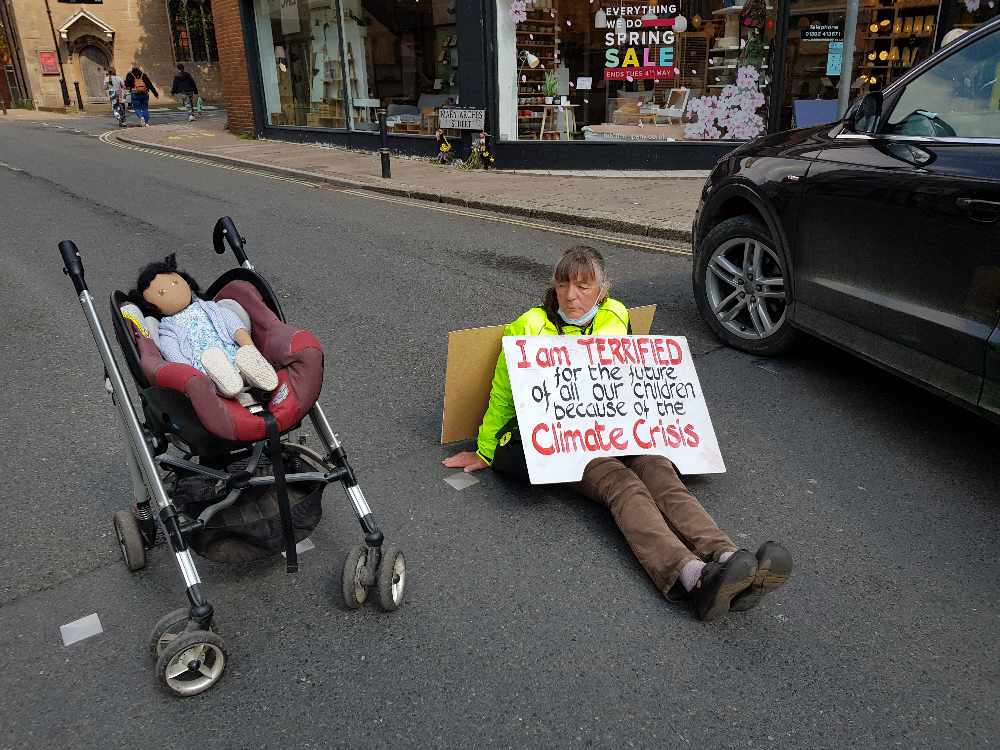 Marilyn Spurr, on the right (courtesy: Jess Nightly)
They're scared
A small number of climate change protestors are blocking roads in Exeter on Saturday, saying they're terrified for the future because of fossil fuel and financial services companies.
Former social worker Margaret Turner, 81, has plonked herself in Magdalen Street, with a sandwich board saying: "I'm terrified for future life on earth because of the climate crisis"
In a statement she explains more. "Despite declaring a climate and ecological emergency in 2019, and despite recent pledges, we are still not being told the truth. The truth is that on present trajectories we are heading for a temperature increase of three degrees and a sixth mass extinction. The truth is that an economic system that puts growth, profit and consumerism at its heart instead of the well-being of human and other creatures is leading us to catastrophe. The truth is we need a radically different story: a story of restraint from greed, power and dominance, a story of caring for one another, for the soil and streams and seas on which all life depends. And the truth is it is very, very urgent."
Former maths and economics teacher Marilyn Spurr, has deposited herself in Mary Arches Street in the city centre. In a statement the 73-year-old grandmother says: "I am terrified for the future of all our children because of the climate crisis. There is a climate and ecological emergency. Aren't we all scared?
"Well, not everyone. Not, it seems fossil fuel companies, finance companies that lend them money and governments including our own. The UK government speaks fine words but where are the actions? More spending on roads, a coal mine in Cumbria, the axing of spending on home insulations. These are the actions we have seen this year."
She was joined by some passers-by, and the police turned up to keep an eye on things. Some people have hurled insults. Others have thanked the protestors.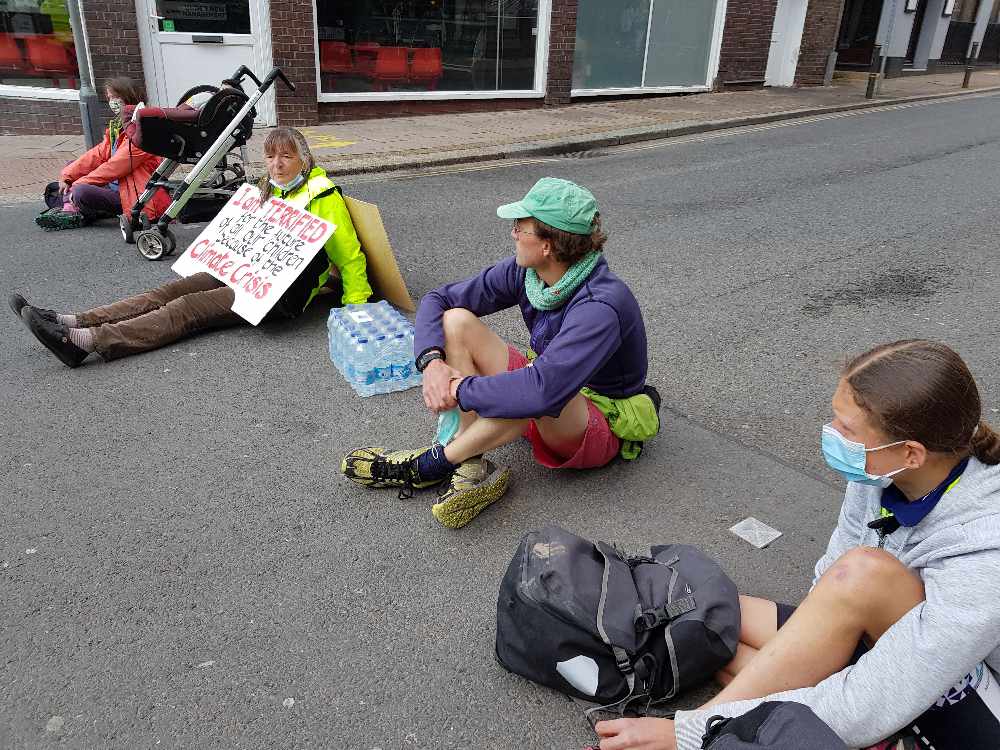 Marilyn Spurr, climate protestor, is joined by others in Exeter city centre (courtesy: Jess Nightly)
Nearby, retired teacher Jane Habermehl sat at the Mary Arches traffic lights at the top of Fore Street. She said: "Sitting in the road, stopping the traffic was not on my list of 'things to do when I retire.' Frankly, it is terrifying; but so is life under the threat of climate breakdown, mass extinction and the devastating threat to lives and livelihoods which has already been happening for years around the world.
When I was 12, the age of my grandson, I wanted to be outdoors, adventuring, learning about nature and how life survives in the wild; now we have precious little wild…
When I was 18, the age of my granddaughter, I was on the cusp of finding my feet in the world of learning, of art and culture, of finding confidence in my own choices of friendships, relationships and looking forward to the responsibilities of the world of work.
Now I feel afraid for their future. I feel a responsibility to do something to give them hopes and dreams for their future. We cannot let this moment of hope pass. I need to feel that hope for them and for our world and the way humanity responds to it."
In Topsham, occupational therapist and mindfulness meditation teacher Patti Summerville, is sitting in the middle of the road with a sandwich board that says: 'I feel despair that the government's actions don't match its words concerning the climate and ecological emergency we are in."

Ms Summerville explains: "It may resonate with others who are going about their lives and also feel similar despair; feeling at a loss to know how to get the message across to our leaders that their lack of action is seriously harmful to the future of the planet and our lives and all who come after us. Until such action is demonstrated I feel it is a just action for ordinary people to continue to step up (or sit down!) to demand change."

She continues: "I don't regard my act as one of bravery, like many others around the world who speak out against governments and who may well be imprisoned, shot, raped or assaulted for doing so.
"I have the privilege of living in a different society and therefore as an ordinary person feel compelled to step forward in this way hoping my actions in some small way empower my and others path ahead in the climate and ecological challenges that we face. I am positive in that I feel as a species the pandemic has shown we can be incredibly adaptable, creative and intelligent, and I desperately hope that we can harness these capacities, but we need government vision and action to achieve any level of success."