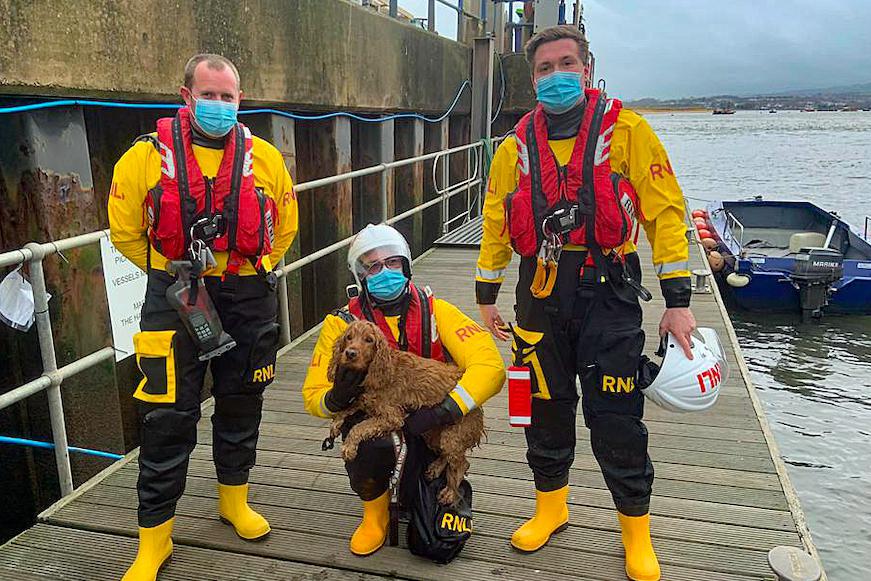 Left to right: Roy Stott, David Preece, Chezz, and James Edge (courtesy: Steve Hockings-Thompson / Exmouth RNLI)
RNLI and Starcross Ferry in pet rescue
Exmouth's RNLI along with the town's coastguard rescue recovery team and the Starcross ferry have helped save an elderly cocker spaniel stuck in mud in the Exe Estuary.
The dog, answering to the name of Chezz, had become trapped in a mud bank on the River Exe off Lower Halsdon Farm on Thursday afternoon.
Exmouth's inshore lifeboat, crewed by Helm, Roy Stott, and crew David Preece and James Edge, launched just after a call at 3.20 p.m. making its way to the scene of the last reported sighting of the pet. The crew of the tender for the Starcross ferry helped to guide the lifeboat to the location of the dog and helped in its safe recovery.
After Chezz was freed from his muddy prison, he was taken to Exmouth Marina and returned to his grateful owner, apparently none the worse for the ordeal. The lifeboat was back on station ready for service a short time later.
RNLI advice for people walking dogs close to water is at: https://bit.ly/3clDEpn