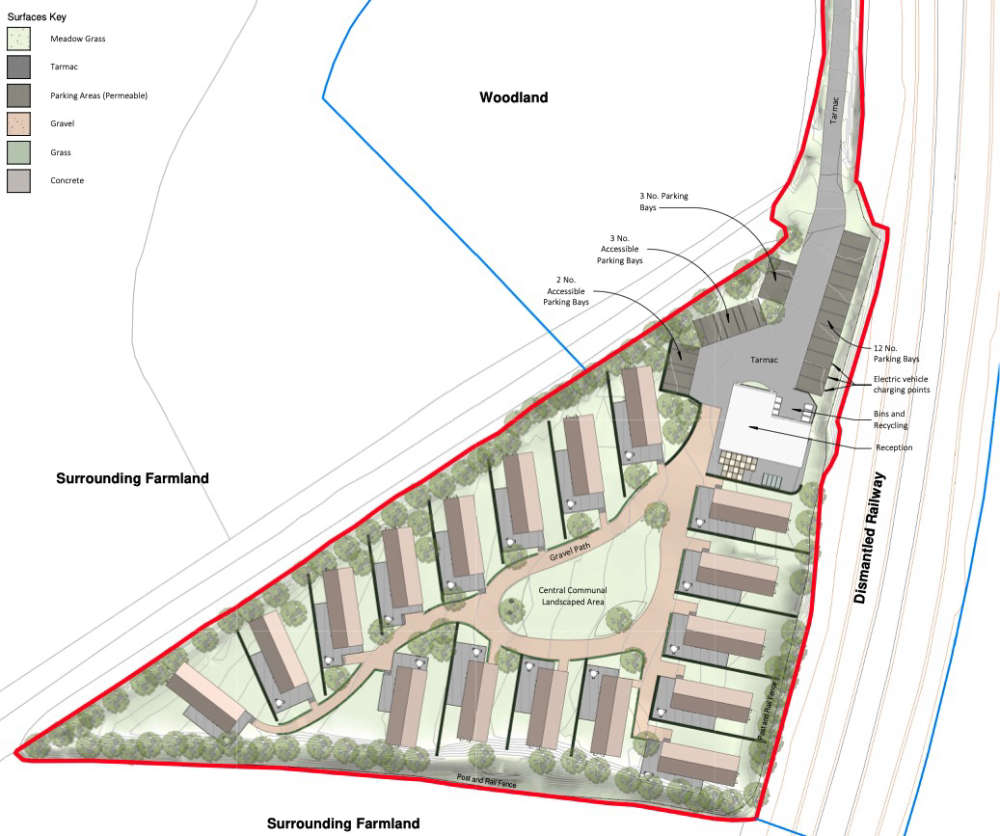 Holiday chalets plan for Patchacott (Image: Architects Design Group)
Salvage yard to be converted
Plans to build 17 holiday chalets in Beaworthy have taken a step forward after councillors in West Devon gave conditional approval.
A company called Birchstone Group Ltd wants to redevelop a disused area of commercial land about 500 metres south of the small hamlet of Patchacott into holiday accommodation, including 17 single-storey cabins and a reception building.
The site, formerly used as Astra Salvage Yard, lies approximately 1.5 km from the nearest bus stop at Metherell Cross. Critics list this as a potential problem.
Several letters objecting to the development were received by the council expressing other concerns including:
The development would have more residents than the existing hamlet of Patchacott
The proposal would essentially result in 17 second homes
Concerns about increased traffic
No positive benefits for the local community
Potential land contamination from the former scrapyard
There is already a campsite nearby
Potential noise and light pollution
Analysis by a landscape officer suggest that, while the number of units may result in a "deterioration on levels of tranquillity and the perception of remoteness in the immediate environs of the site," the impact would be localised and largely restricted to to the area immediately around the site.
Nevertheless, some members of West Devon Development management and licensing committee, meeting on Tuesday (14 June) raised other concerns.
Cllr Caroline Mott (Cons, Bridestowe) said: "I do believe that we've got plenty of holiday lets in West Devon.
"The economy of them is going to go down in the next few months, perhaps a year or so, as people will return to going abroad and having the confidence to go abroad.
"So I'm not in favour of any more of them, especially a large number such as 17.
"There aren't any facilities close by, meaning more car journeys.
"And often with these holiday lets, there's two cars for each item which is twice as many as it used to be. So I'm not happy to support the programme."
Following a brief debate, five councillors on the committee voted in favour of the outline planning application, subject to a number of conditions, and five voted against.
A carrying vote by the chairperson, Cllr Julie Yelland (Cons, Okehampton South), supporting the plans, now allows for a more detailed application to be submitted.