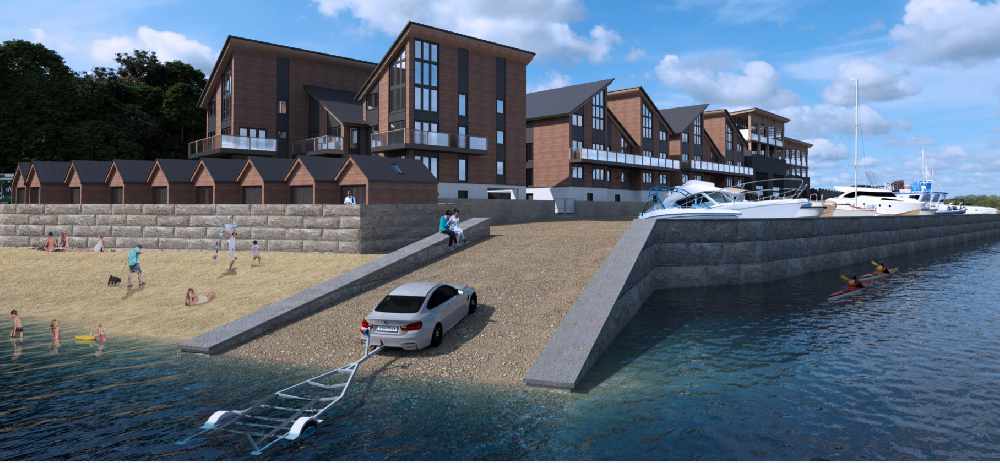 So advanced that cars will emerge from the sea! (courtesy: MJS)
Beach huts are holiday homes!
Luxury homes, offices and beach huts as part of a regeneration scheme for a Teignmouth riverside site has been unveiled. And people will be able to take holidays in the beach huts, which will have kitchens and showers.
The Riverside Regeneration Project would see a boatyard at Bishopsteignton Road on the edge of the town converted into a mixed-use development combining housing, holiday accommodation, industrial units and offices, while improving the existing boat storage and repair facilities.
Teignmouth Maritime Properties Ltd have put forward their proposals to Teignbridge District Council planners for the site which is right on the bank of the River Teign.
In a statement submitted with its planning application, the company says the development will provide inclusive, accessible living and working accommodation and they hope to attract greater numbers of new boat and water-based leisure users to the area, which will generate economic benefits. Nine residential units will be in three blocks, each containing three townhouses, and will consist of six five-bedroom houses and three four-bedroom homes.
The office will contain five self-contained workshops on the ground floor, while a proposed two-storey parking structure will serve the office and industrial units, visitors to the boatyard and Teignmouth. There will be 42 parking spaces, 21 of which will be under cover, provided at ground and first floor level., with structure also containing secure cycle spaces, with the additional potential to provide a park and ride by boat, or park and cycle service into Teignmouth.
The west end will have nine beach huts, set within an enclosed walled area for privacy and facing upstream towards Dartmoor, while at the east end, seven beach huts will face towards the mouth of the Teign. These will have a small kitchen area and shower room, and are intended as short-term holiday accommodation for one or two people.
The application adds: "The level nature of the site, proposed boardwalks and generous cycle parking all ensure that the development will provide inclusive, accessible living and working accommodation for those without a car.
"Consideration has been taken to address the growing concerns over air pollution and lack of parking facilities in the town centre. Providing workshop and office space for local maritime businesses on the edge of town, with onsite parking and facilities, will ease the traffic caused by larger vehicles and deliveries into and out of the town centre.
"A reduction in vehicle movements through Bitton Park will improve air quality and as a potential out-of-town parking location, with access to the town centre by boat, cycle or on foot, the development has the potential to increase the number of visitors to Teignmouth without adding to road congestion.
"This is an opportunity to comprehensively redevelop a prominent waterside site into a high-quality maritime facility with additional residential, commercial and leisure uses that are appropriate and beneficial to Teignmouth and this estuary location."