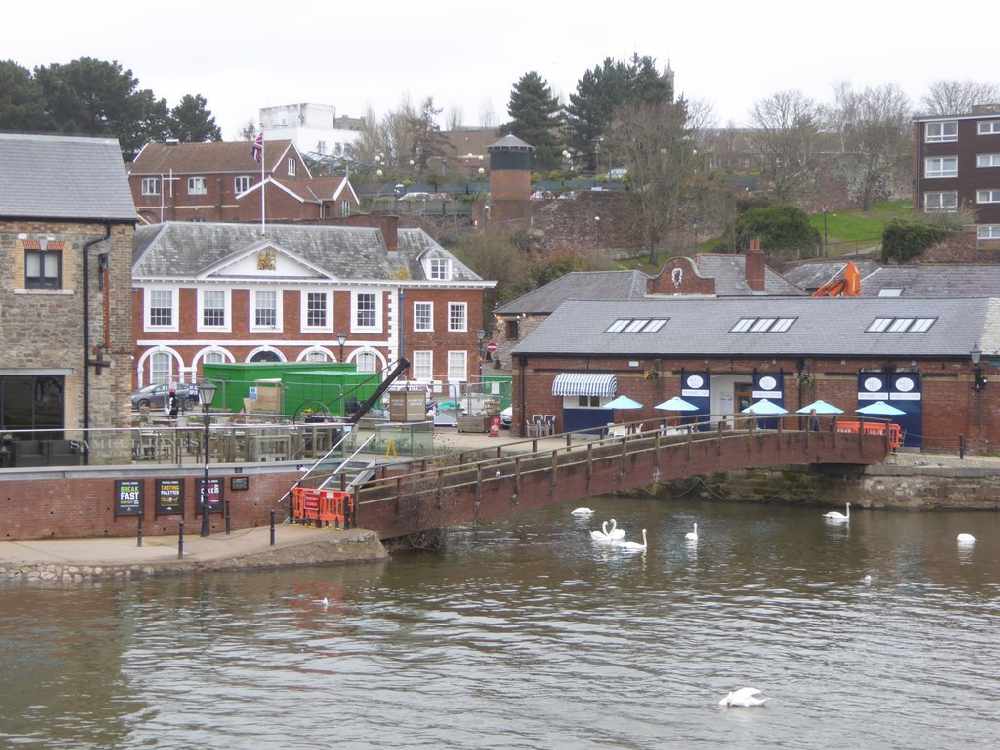 Mallison Bridge, Exeter Quay will cost £1 million to replace (courtesy: David Smith/LDRS)
£37 million of work proposed
A £37.5m programme of work to ensure assets belonging to the Exeter City Council are safe, fit for purpose and kept in a condition which will maximise their longevity and value has been proposed.
It includes a section of the city's Roman wall around the former northern gate, near to the City Gate pub. That's going to cost just over a third of a million pounds. The biggest single item is repairing Mary Arches car park. Taxpayers will have to stump up £3.6 million for that.
Exeter City Council's executive has recommended to the full council additional budget it wants for 2020/21 and asks them to note funding requirements for future years.
Work would see the city council's car parks resurfaced and structural repairs carried out, bridges repaired, as well as new playgrounds proposed.
Mike Carson, the city surveyor, said that a report has identified what needs to be spent over the next five years, the interventions to bring the assets up to a satisfactory level of condition – and then to try and maintain them in that condition.
Cllr Phil Bialyk, leader of the council, added: "£37.5m to get this to condition was somewhat concerning, but we have never had all our assets at this level before. We have not been negligent and we are trying to put the house in order and this would be good stewardship of the assets, and we will review it throughout."
The list of works doesn't include any work to the council's leisure centres, as the conditions of these buildings are being assessed as part bringing them back under council control.
Work recommended:
Guildhall roof replacement – The roof coverings on this grade 1 listed asset are failing – £614,000
RAMM – The roof coverings over part of this grade 2 listed asset are failing and require replacement. Further areas of the roof require drainage improvement – £988,000
Mary Arches car park – deck resurfacing, structural repairs, expansion joint replacements and drainage improvements – £3.6m
Guildhall car park – deck resurfacing, structural repairs, expansion joint replacements and drainage improvement – £2.7m
Cathedral and Quay car park – deck resurfacing structural repairs, expansion joint replacements, drainage improvements and secure access control – £3.8m
Harlequins car park – deck resurfacing – £369,000
John Lewis car park – deck resurfacing, structural repairs, expansion joint replacements and drainage improvement – £2.8m
Princesshay 2 car park – deck resurfacing, structural repairs, expansion joint replacements and drainage improvement – £2.5m
Princesshay 3 car park – deck resurfacing, structural repairs, expansion joint replacements and drainage improvement – £1.2m
Leighton Terrace and King William Street car parks – deck resurfacing, structural repairs, expansion joint replacements and drainage improvement – £1.75m
Commercial Property Ancillary Accommodation – Flat roof coverings to ancillary parts of leasehold premises require replacement due to ongoing continued degradation and failure – £124,000
Bradninch Place – additional actions to enable potential asset transfer including heating system, roof access and removal of the BMS system – total of £840,000
Wat Tyler House – leasehold asset is subject to long standing water ingress issues. Despite numerous attempts to resolve the variety of issues it has been determined that the only long term solution to address ongoing issues it to install a new rainwater system to prevent rain water draining through the building- £235,000
Verney House – roof access and rainwater drainage improvements. Potential for mitigation if asset transferred for residential development opportunity – £120,000
Commercial Properties – capital improvements to enable ongoing income – £421,000
Civic Centre Phase Three roof – This leasehold asset requires safety improvements to roof access and roof covering replacement to prevent ongoing water ingress – £230,000
City Wall – A section of the city wall, at the City Gate Pub, has suffered a partial collapse. The remaining parts of the wall have been shored up, but this is a temporary solution and continues to impact on the trading position of the business. The wall requires rebuilding and, along the entire length, improvements made to the foundations of the wall to prevent future collapse – £378,523
Exhibition Way Bridge – Full Repair (specification dependent upon PI Report findings) & redecoration – £210,000
Cricklepit Bridge – Full Repair (specification dependent upon PI Report findings) & redecoration. Last full paint coat was 15 years ago and is due for renewal – £153,000
Yaroslavl Bridge – Full Repair (specification dependent upon PI Report findings) & redecoration, including redecking and replacement of handrail. Last full paint coat was 15 years ago and is due for renewal – £77,000
Leypark Road Footbridge – Full Repair (specificication dependent upon PI Report findings) & redecoration – £211,000
Salmonpool Swing Bridge – Structural repairs plus replacement of handrails & decking, repainting of all steelwork – £125,000
Paul Street Car Park Bridge & Ramp – Full Repair (specificication dependent upon PI Report findings) & redecoration – £109,000
North Street Footbridge – Demolish Bridge – £153,000
King William Footbridge – Full Repair (specification dependent upon PI Report findings) & redecoration – £109,000
Farm Hill Retaining Walls – Stabilising works and other remedial actions – £552,000
Mallison Bridge – Replace unsafe, now closed, pedestrian bridge per prepared Design, creating new public boardwalk and raised platfotm alongside quay walls Active & Healthy Lifestyles Providing Value-forM – £1,037,000
Trews Weir – Repair weir structure – £1,054,850
Riverside Walls at Quay – Underpinning or sheet piling existing Quay walls. Potential opportunity to deliver alongside Trews Weir – £530,000
Exeter Arena Skatepark – Divert foul sewer around North & West edges of new Skate-park and reconnect into existing at manhole to SW of new Skatepark – £25,600
Bonhay Rd/Andlaw House Footpath – Remedial works to replace existing gabion baskets or shore up existing gabion baskets – plus resurfacing of path with tarmac – £42,400
Turf Pierhead – Construction of new sheet piled wall around the pierhead – £168,000
Northernhay & Rougemont Gardens – Footpath improvements including resurfacing, replacement of handrails and fencing, repairs to retaining walls, refurbish bandstand. Improve electrical and water supplies for events, plus realignment of gates for easier events access – £169,000
Longbrook Street wall behind 30- 38 – Remove vegetation and loose masonry to top of wall to stabilise and make safe – £56,000
Underground Passages – Recently commissioned visual Structural Inspection has identified numerous important and desirable maintenance items and a single essential item that need addressing – £30,900
District Street Lighting – Complete stock replacement of aging lighting columns to drop-down type and to LED lamps over 5 year programme. Providing Value-forMoney Services Leading a well-run service – £644,000
Okehampton Street & Parr Street Car Park – Completely resurface both Car Parks and re-line Parking Spaces – £54,000
Exwick Cemetery – Fill potholes and fit grates to open gullies. Carry out resurfacing to a number of localised areas to eliminate trip hazards – £22,000
Higher Cemetery – Fill potholes, fill ruts in soft ground, eradicate trip hazards, raise sunken gullies/manhole covers and carry out resurfacing to a number of localised areas – £22,000
St James' Weir & Ducks Marsh Meadow banks – Repair and rebuild St James Weir – £1,300,000
St David's Church Boundary Wall – Deconstruction of unstable sections of Heavitree stone wall followed by full reconstruction including replacement of stored copings – £32,000
Canal Basin, Topsham Quay, Countess Wear – provision of purpose-built concrete craning pad – £188,500
Double Locks Access Road & paths – Repair & resurface roadway – £54,000
Heavitree Paddling Pools – Redesign and rebuild Paddling Pools, add new Splash Pad & replace dated Plant & Plant-Room. Expand and replace play area with a designed site – £468,000
Cemetery Fields Play Area – Delivery of new major play area including ground improvements and accessibility improvements. May permit closure of 1 or 2 nearby local sites with lower play value which will offset revenue costs. – £156,000
Budlake Road – Remedial works to highways including resurfacing and drainage improvements – £109,000
Taddiford Brook @ New North Road / Taddiford Road – Delivery of flood scheme comprising flood storage areas in Taddiford Brook valley – £54,000
Flowerpot Skate-park – To supply & install 8 no. 380 watt Philips BVP651 Clearflood Large T25 DX60 LED floodlight luminaires complete with internal drivers, commission and Certificate. Commission a contractor to remove all graffiti on site, and install CCTV for enforcement and deterrent against graffiti – £26,000
Piazza Terracina – Repaving and landscaping Terracina, with new service points to imprve suitability for events. Could include spaces for street food and pop-up stalls similar to Guildhall. Potential income from stalls and events which would help to offset some of the costs – £167,500
Numerous Play Areas – Supply & Installation of new play equipment at multiple play areas across the city to replace old, end of life equipment. Cost includes 2 potential full redesigns where all equipment is old and the site could provide better play value and more accessible play in areas of multiple indices of deprivation (Lakeside Avenue & Chestnut Avenue) – £861,000
Landfill Gas Extraction Systens @ Clifton Hill & Mincinglake Valley Park – Significant upgrade or replacement of all three extraction systems – £650,000
Mincinglake Valley Park Reed Beds & Pipe Inlet – Re-lining of the lagoon to minimise leaks, coupled with design and construction of new debris screens to minimise blockage risks. – £157,000
Trews Weir – Installation of new safety boom across the river upstream of Trews Weir, and safety signage in the pocket park downstream – £60,000
Holman Way , Topsham – Car Park / Copse Wall – Remove loose masonry and rebuild broken section of wall using reclaimed bricks to match existing. – £10,000
Exeter Ship Canal – M5 Viaduct – Raise and widen approximately 250m length of canal bank in the vicinity of the M5 crossing. Reinforce with geotextile (terram / enkamat or similar) to reduce future erosion – £165,000
Exeter Ship Canal – Bottleneck & Bird Hide – Top-up and reinforce approximately 200m length of canal bank and reinforce. – £116,000
Exeter Ship Canal – Swans Nest Car Park – re-surface car park with asphalt, re-line car park spaces – £56,000
Exeter Ship Canal – Green Tip to Salmonpool – re-surface path – £51,000
Exeter Quay Cellars & cliff face – Undertake full geotechnical investgiations to determine the continuity of materials along cliff & determine the seasonal variation of the water table, plus monitoring further movement. Likely that each archway may need to be provided with rock anchors and water proof lining – £487,000