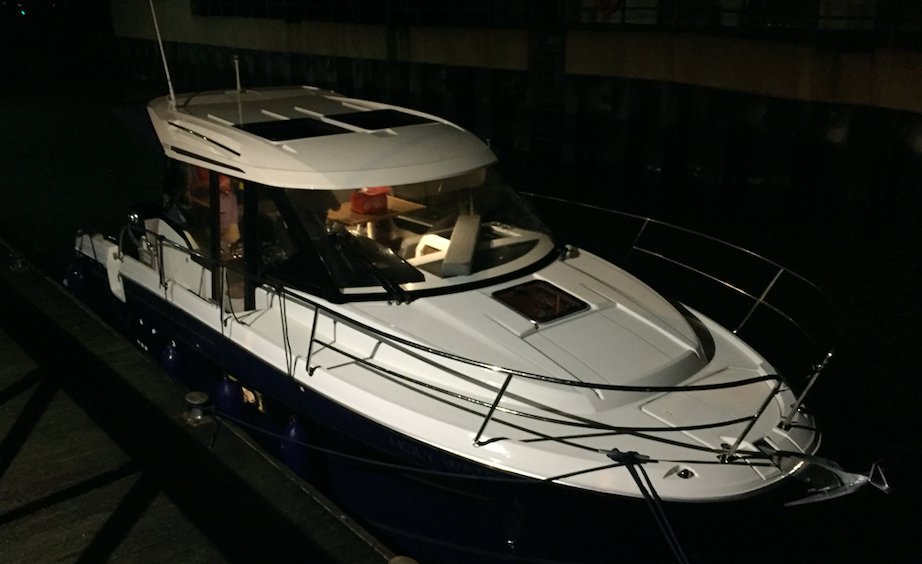 Fill her up! (courtesy: Chris Sims/Exmouth RNLI)
They hadn't got far
A motorboat on its way from Torquay to Poole didn't get too far before running out of fuel and drifting out of control in worsening conditions.
The 29-foot motor cruiser, a Jeanneau Merry Fisher 895, ended up in distress east of the coast of Budleigh Salterton, with two crew on board,
Exmouth RNLI volunteer crew were called at 8.40 p.m. on Tuesday 22 September 2020, sending the all-weather lifeboat to the scene. They were on their way within 20 minutes and by 9.40 p.n. the RNLI crew were able to make contact with those on board the boat and make it safe.
A line was secured and the lifeboat towed the vessel to the safety of Exmouth Marina. Both occupants of the motor cruiser were uninjured.
Exmouth RNLI all-weather lifeboat coxswain Steve Hockings-Thompson, said: "It goes without saying that if you are undertaking a long journey by sea you should ensure that you have sufficient fuel for the trip before embarking. In this situation the vessel had run out of fuel some distance out to sea and was drifting in worsening weather conditions. Myself and the crew were able to effect a tow, take the vessel safely to Exmouth and avoid a more serious situation from developing."
Comprehensive RNLI Safety advice for motorboating and sailing can be found at: https://rnli.org/safety/choose-your-activity/yacht-sailing-and-motorboating