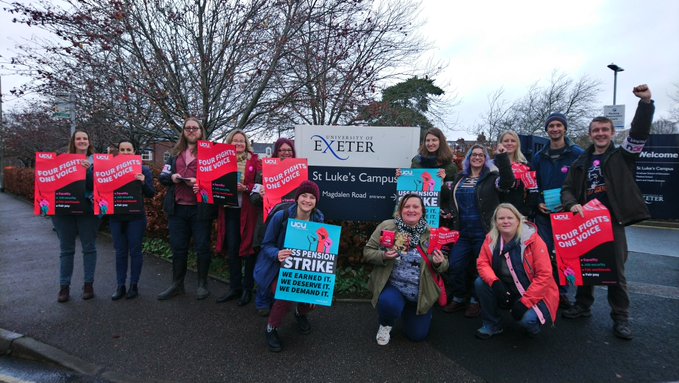 The picket line at St Luke's. Image: @lcpilling
It's in a row over pensions, working conditions and pay.

Listen to our interview with Professor Joseph Sweeden, a lecturer at Exeter University, above.

8 days of strike action are underway at 60 Universities, including Exeter.
It's after no agreement could be reached with the University and College Union.
Lecturers, student support services staff, admissions tutors, librarians, technicians and administrators are among those going on strike.
The University and College Union (UCU) said staff had reached "breaking point" over a number of issues, including workloads, real-terms cuts in pay, a 15% gender pay gap and changes to the Universities Superannuation Scheme (USS), which the union says will leave members paying in more and receiving less in retirement.
A University of Exeter spokesperson said: "We know that strike action may be unsettling for many of our students, and we remain hopeful that the dispute can be resolved at a national level. Since the ballots were announced in June we've been working to mitigate the potential impact of any industrial action and ensure any measures we put in place are the right ones for students and staff."
Staff are on the picket line at both the Streatham and St Luke's Campus.