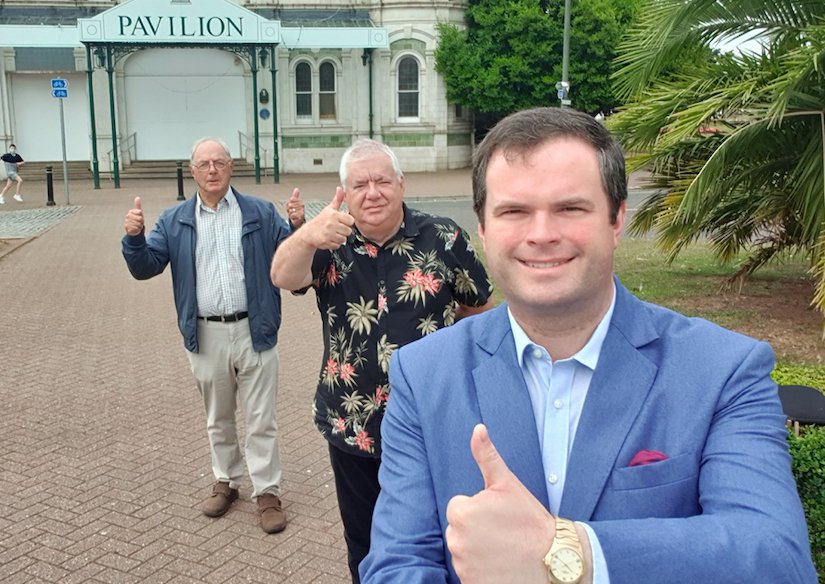 Town Centre Campaigners Roger Heath and John Doherty, with MP Kevin Foster
Investment in harbourside and transport
Torbay has been offered £22 million of government funding for regeneration and improvements. It's on of seven locations across the country to receive such cash.
Investment under the Torquay Town Deal will address challenges at key locations. Projects include regeneration at key locations in the town centre, improving Torquay Pavilion, a new rail station at Edginswell and plans to improve Torquay Harbourside through paving, seating and lighting.
Conservative MP Kevin Foster, who is deputy chair of the Torquay Town Deal board, welcomes the money. He says: "This is fantastic news and just what Torquay needs to help build back better after the impact of the Coronavirus. The Town Deal is not just about regenerating empty shops in the Town Centre, but setting out a vision for our town which includes turning back the tide on poverty and delivering improved opportunities for the next generation. This deal is not just about delivering a set of projects, but pointing towards where we want to be as a bay in 2030"
In September a £750,000 down payment on the Town Deal from Government accelerated 3 Town Deal projects which could be delivered this financial year. These were improvements to Upton Park, enhancement of Princess Gardens and the Wavelength Legacy Project at Rock Walk.

The investment will focus on delivering a more vibrant town centre. The projects within the investment plan will drive forward a better mix of uses, creating an improved experience and greater footfall in the town centre, support growth in public transport and are expected to attract additional private sector investment into the town. The total development cost of the projects in the Town Investment Plan, including public and private sector investment, is an estimated £135 million.