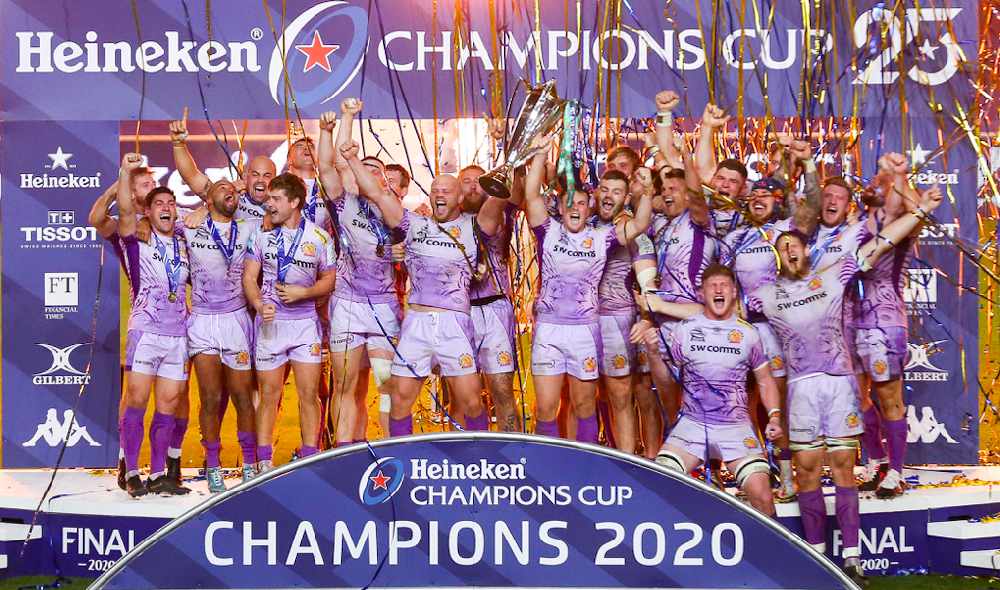 Exeter Chiefs were European Champions in 2020 (image courtesy: EPCR)
They'll go to Pretoria in Champions Cup
Exeter Chiefs will play in South Africa next season as teams from that country enter the Heineken Champions Cup for the first time.
The Chiefs will be going to Pretoria to face a team called the Bulls, who were runners up in South Africa's championship last year.
Exeter have also been drawn against French team Castres Olympique in pool A.
The matches will take place home and away during December 2022 and January 2023.
After a disappointing 2021/2 season, the Sandy Park team have a hoop to jump to get through to the round of 16. Together with 11 other teams in Pool A, they will fight for the top eight spots in order to progress to the round of 16 stage of the Heineken Champions Cup,
The final will be at the Aviva Stadium, Dublin on 20 May next year.
For the new campaign, with a new format, the organisers of the tournament, EPCR, have welcomed four South African United Rugby Championship sides, plus Toyota Free State Cheetahs, into their competitions. Stormers, Bulls and Cell C Sharks will premier in the Heineken Champions Cup, with Lions and Cheetahs making their first European berth in the Challenge Cup.
The Chiefs last played Castres in the 2018/19 season, and lost narrowly. Castres were defeated in the final of the Top 14 this month by Montpellier.
EPCR will begin to prepare the fixture schedule, with an announcement of exact dates, venues, kick-off times and TV coverage to follow as soon as practicable.
HOW THE COMPETITION WORKS
In the new format, each team initially faces two opponents, home and away. However, those two opponents do not in turn face each other in a closed mini-league of three; they have their own two teams to face. So, in the draw set out below, Castres will play Exeter and Edinburgh home and away, but Exeter will face Castres and Bulls, Bulls will face Exeter and Lyon, and so on.
You following this?
At the end of the four rounds of pool games, the top eight teams in each pool progress to a last-16 stage, followed by quarter-finals, semi-finals and finals.

HEINEKEN CHAMPIONS CUP ROUNDS & DATES
Round 1 – 9/10/11 December 2022
Round 2 – 16/17/18 December 2022
Round 3 – 13/14/15 January 2023
Round 4 – 20/21/22 January 2023
Round of 16 – 31 March/ 1/2 April 2023
Quarter-Finals – 7/8/9 April 2023
Semi-Finals – 28/29/30 April 2023
Heineken Champions Cup Final – Saturday 20 May 2023 at Aviva Stadium, Dublin