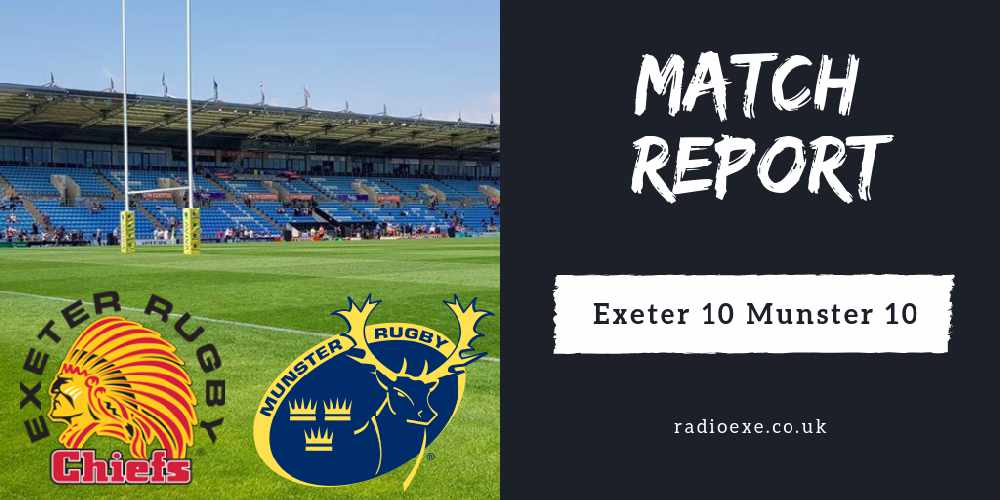 It finished 10-10 between Exeter and Munster at Sandy Park
Luke Cowan-Dickie scored Exeter's only try of the match. Gareth Steenson kicked 5 points with the boot in a hard fought contest against Irish side Munster in Pool 2 of the Heineken Cup.
Kickers from both sides entered the field 30 minutes prior to kick-off trying to master the blustery conditions. At times, it was like watching a boomerang. The ball goes forward, and the wind brings it straight back. Just days after Storm Callum battered Devon with 70 mile per hour winds, it was clear the weather was going to play a huge part in the encounter.
Chiefs survived an early onslaught from the Irish side, who started brightly, but couldn't breach Exeter's defence. The 2017 Premiership champions conceded a number of penalties inside their own half as Munster pilled on the pressure and controlled the opening 15 minutes. However, the Chiefs defence stood strong and denied any points from being scored.
When Exeter had possession in a dangerous area, they made the most of it. Directly in front of the posts, Munster were penalised at the breakdown and the Chiefs were awarded a penalty – which Steenson converted.
Munster equalised with a penalty of their own just 10 minutes later. But following several drives 5 meters out from the visitors try line, England International Luke Cowan-Dickie eventually powered his way over for the first try of the game. Converted by Steenson. 10-3 at the break.
With the blustery wind in the face of Exeter, in was very much advantage Munster in the second-half. And they made the most of it. Rob Baxter's men struggled getting up the pitch, and they spent the majority of the second 40 minutes in their own half.
The Chiefs defended for their lives heroically, but Munster looked threatening when in possession. And following a number of drives at Exeter's defence, the visitors inevitably found the try line to level the scores. 10-10.
It was a nail-biting final 5 minutes for the home fans inside Sandy Park. Exeter came tantalisingly close to winning the game at the death. Just two meters away from the Munster try line, the ball was held up.
It finished 10-10 at full-time.