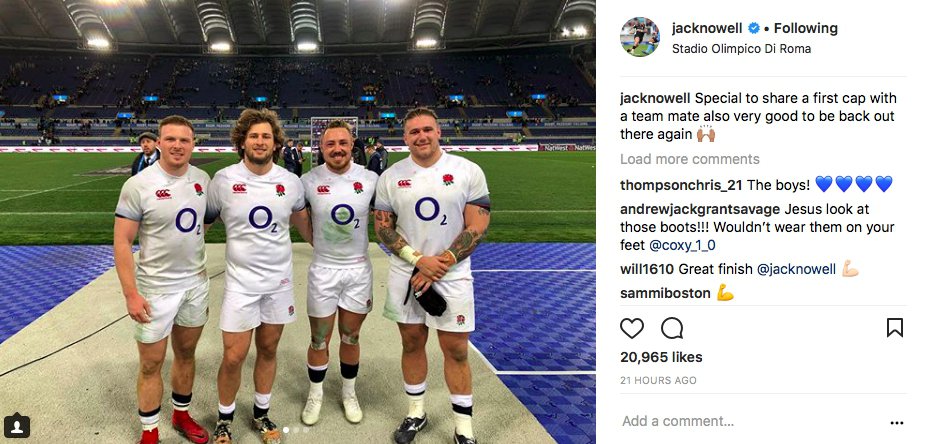 Four Exeter players left to right, taken from Jack Nowell's Instagram (Sam Simmonds, Alec Hepburn, Jack Nowell and Harry Williams)
Exeter Chiefs forward Jack Nowell has labelled England's number 8 as 'one of the quickest' he's played with.
Sam Simmonds quickly stamped his authority in the England team by scoring two tries on his Six Nations debut for England. The 23 year old, who started the game against Italy on Sunday (4th February), made the most tackles by any player in an England shirt (16) helping his side to an emphatic 46-15 victory in Rome.
His Exeter teammate Jack Nowell, who recently returned from a long term ankle injury, also put his name on the score sheet. The winger touched down in the corner after coming off the bench in the second half. Speaking to the media after the game, Nowell praised newcomer Simmonds for a huge impact on the encounter.
"For him to pick up two tries and play as well as he did was pleasing for him and the coaches will be happy," said Nowell.
"He's a bit of a freak, isn't he? He's up there with one of the quickest I've ever played with. A lot of players have been saying how quick he is, but he's got a big backside so that's where the power comes from.
"He's been doing it all season for us at Exeter, and for the last couple of years, so for him to be able to put on an England shirt and do it on the big stage like this is awesome."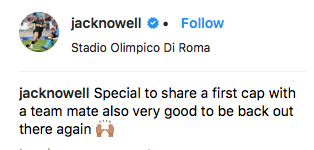 With twenty minutes to play, four Exeter Chiefs players were on the field including 24 year-old Alec Hepburn who made his England debut. To share such an amazing memory alongside his Exeter team-mates was special said Nowell.
"It was awesome to have all the Chiefs boys on the pitch at the end," he added. "For Alec Hepburn to come on and win his first cap was great and a special moment."
Due to England duties, Exeter's four star players won't be available for the Premiership Champions against Worcester on Saturday.
Rob Baxter's men currently have a five point lead at the top of the Aviva Premiership. With their big stars absent, how will his side adapt with the rotation of the starting 15? Showing good strength and depth in the squad, Exeter's youngsters thumped Saracens in the Anglo Welsh cup last weekend to show Rob Baxter they are more than capable of playing first team rugby for Exeter.