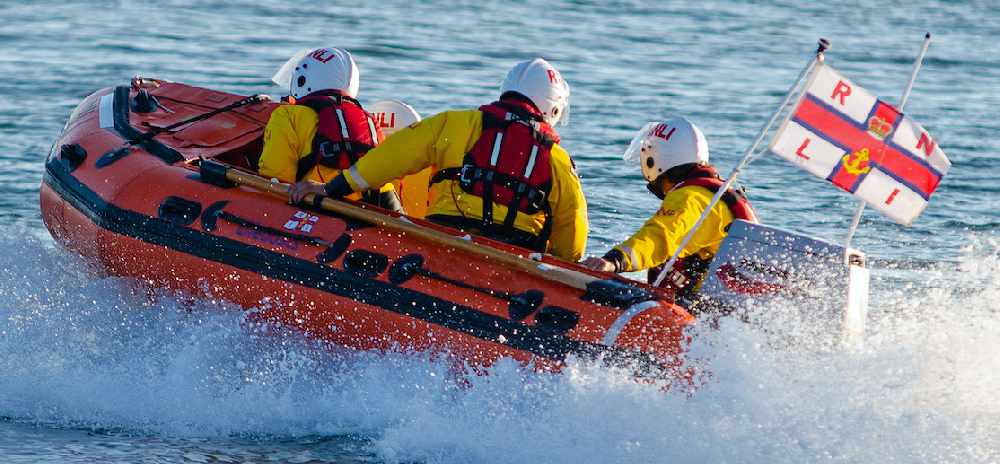 VIDEO: Machine had stalled
A jet-skier whose machine stalled at Red Rock near Dawlish Warren has the coastguard and RNLI Exmouth and Teignmouth to thank for his safe return to shore.
Exmouth's inshore lifeboat was launched juts before 3pm on Friday by colunteer shore crew Karl Halford, Ed Steele and Doug Wright, and manned by crew members, Harry Griffin (Helm), Steve Hockings-Thompson and Andy Stott. Watch the lifeboat launch in this short video.
With the assistance of Exmouth national coastwatch, who had visual contact with the jet ski, the lifeboat was quickly on scene with the casualty vessel at 15:06hrs. It was established that the jet ski had stalled and the vessel was taking on water.
The lifeboat established a tow with the jet ski and it was taken to a point off Holcombe where the vessel and its sole occupant were handed over to Teignmouth RNLI's service and towed to land. No damage was caused to the jet ski and no injuries to its rider.
Lifeboat Helm Harry Griffin said: "This was an unfortunate incident where the rider of the jet ski had adhered to all the recommended safety precautions - he was attached to a 'kill cord' on the vessel, wearing a lifejacket and had other safety equipment including adequate communications but the jet ski, that had recently been serviced, suffered a technical failure that resulted in the breakdown.
Fortunately, with the help of our colleagues in Exmouth National Coastwatch, we were able to pinpoint the casualty location and arrive on scene very quickly. I'm pleased the outcome was successful and would like to thank our RNLI colleagues at Teignmouth for their swift response in this joint operation."
On completion of the assignment the lifeboat made its way back to Exmouth Lifeboat Station where it was back ready for service by 4.30 pm.