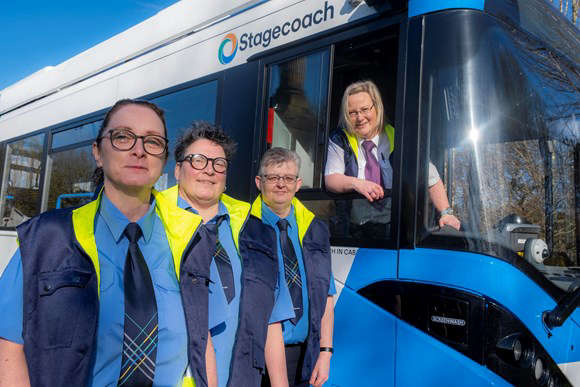 18% increase in female driver applications
The largest bus and coach operator break the bias on International Women's Day with increase in female driver applications. Stagecoach is celebrating its female talent today (8 March) in aid of International Women's Day 2022.
Stagecoach launched its Women@Stagecoach employee network with the aim of both men and women working together to promote and support women and equality in the business, promote a diverse working environment and to give women a voice to share their concerns and issues that particularly impact women.
They also released their first podcast for International Women's Day with some of their top female employees discussing their thoughts on being female in a stereotypically male dominated industry, how they need to encourage male allies to join and what bias means to them.
Stagecoach is also celebrating its success in female recruitment with an 18% increase in female driver applications compared to last year. In addition, over a third of females are currently highlighted as successors within the business who have been nominated as top talent to join its internal development programme 'Shine Pool'.
The new employee networks are a key part of Stagecoach's overall objective set out in its recently launched sustainability strategy, which has an objective of achieving 40% of females in leadership roles by 2024.
Carla Stockton-Jones, UK managing director; Fiona Doherty, West Scotland managing director and Sharon Vye-Parminter, health, safety and environment director were all recognised in Women to Watch and Role Models for Inclusion 2021, showcasing some of the best female talent within the business.
The operator has also made a number of senior female appointments in the last twelve months, welcoming Rachel Geliamassi as managing director for West and Janine Summers as regional director for the North.
Carla Stockton-Jones, UK managing director for stagecoach and the first woman to lead a major transport operator in the UK said: "I am extremely proud of the work our people and employee networks are doing to make important changes in our business
"Our employee networks help raise awareness of many issues and this awareness starts conversations which leads to self-awareness and then ultimately change.
"International Women's Day continues to be an important platform for starting these conversations and with this year's theme being #breakthebias it allows men to join the conversation and become advocates which is equally as important.
"Our targets for diversity are ambitious but realistic and we are making great progress to meeting them by 2024."
Sharon Vye-Parminter, health, safety and environment director for stagecoach said: "I am committed to supporting females in our business and helping break some of the stereotypical views and biases.
"We have made lots of good progress in the Diversity and Inclusion agenda and I am looking forward to seeing how we progress over the next 12 months."