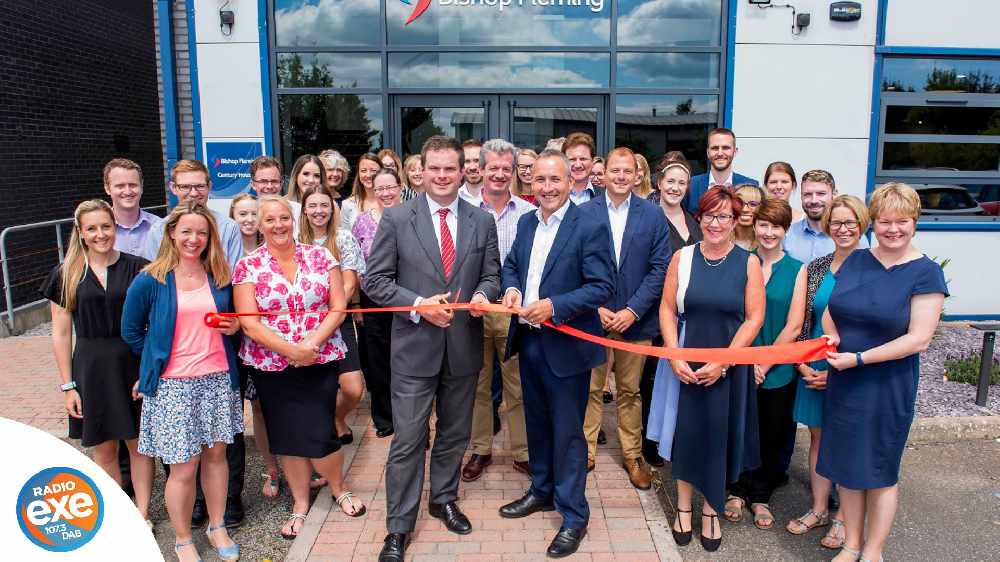 Bishop Fleming's new office is located at Exeter Business Park
Torbay MP Kevin Foster has cut the ribbon to officially open professional services firm, Bishop Fleming's new office.
The firm which delivers, accounting, tax and audit has moved into new offices to accommodate its growth, as it celebrates its centenary year.
The firm moved in June, to 'Century House' on Nicholson Road after being at The Terrace for 50 years.
The new office is a key element in the firm's celebrations of its centenary year and showcases the businesses growth and ambition.
The firm, which originally started in 1919 in Torbay, has grown from strength-to-strength and now has six other offices across the South West and Midlands, employing over 340 people.
The new workspace reflects the UK Top 30 accountancy firms recently refreshed branding as well as its commitment to delivering an exceptional client experience.
Staff are encouraged to sit at a different desk every day, as the office provides an enjoyable, contemporary and agile workspace for its employees and clients.
The office is spread over two floors, with a kitchen on each level as well as breakout areas and new meeting rooms, making collaborative working easier than ever before.
MP for Torbay, Kevin Foster said: "It's great to see this new investment Bishop Fleming has made here in the bay.
"The firm has been such an icon here in the last century. There are very few private businesses that can say they've been operating for such a long time and has seen such changes in our economy and in how businesses function.
"It's lovely to see the new modern approach and great to see the role the firm plays in the wider community.
"The wider role Bishop Fleming plays in trying to secure investment and making sure Torbay is a place that the next generation can aspire to succeed in, is great to see and is exactly what we need".
Tim Godfrey, partner at Bishop Fleming said: "It's really important to us as a firm as we look forward to where we are going on our journey. The new office has been a long time coming in Torquay, and underlines our commitment to the region and the business community.
"We're very proud of the design and are proud to share it with our clients and people locally. The office helps us to attract not only the right clients but also the right people, giving them the right space to work.
"A big thanks to Kevin for coming to cut the ribbon to open this agile workspace we've created. It plays a key part in our centenary and we look forward to being here for another 100 years."