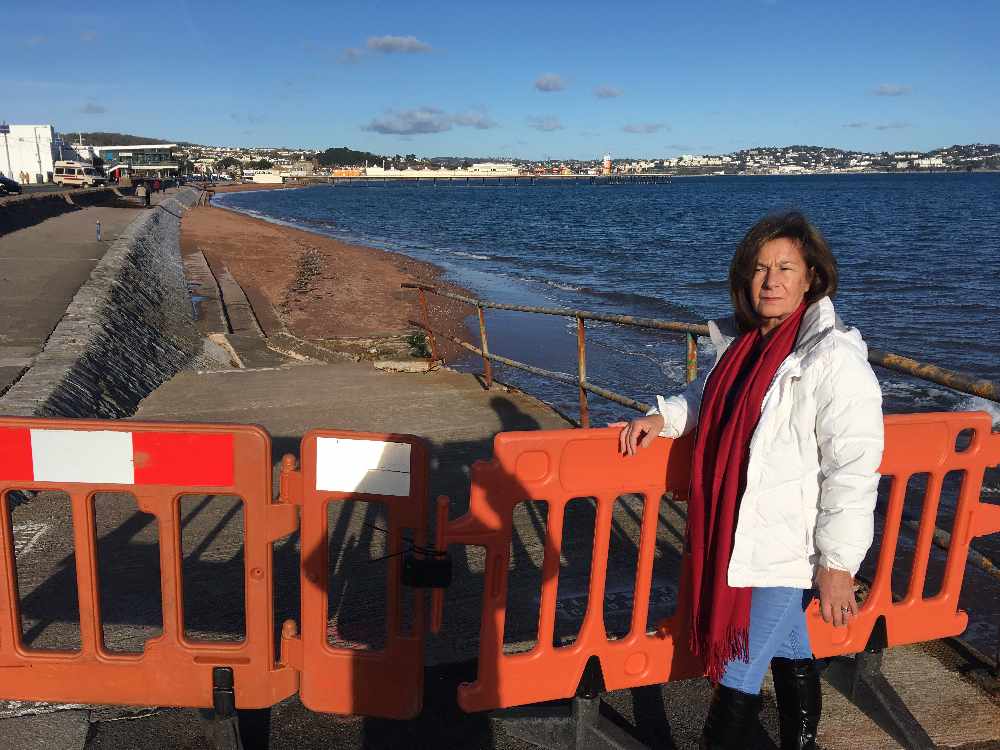 Cllr Barbara Lewis at the damaged slipway on Paignton seafront
It was damaged during Storm Callum in October
The decision follows a call for action from local Councillor Barbara Lewis after complaints from local clubs which used the slipway.
The Liberal Democrats also raised the issue at a council meeting which was considering the mayor's plans for future spending.
At first the council said the repairs could not be funded due to a freeze on non-urgent spending brought in as a result of financial pressures.
But after concerns were raised about the state of the slipway, Mayor Oliver has decided to set aside the money from this year's essential capital repair budget.
The work will restore access to Paignton beach for boats after part of the concrete surface was broken up and railings were left twisted by heavy seas during Storm Callum. The structure has been closed off with barriers to prevent access.
A statement from the council said: "As a result of continued winter storm damage to this exposed coastal asset there is a need to carry out essential repair work to ensure that it remains fit for purpose in the short to medium term."
Cllr Mrs Lewis, Conservative, Roundham with Hyde, said residents and organisations were concerned about leaving the slipway out of action long-term.
She said: "Paignton is a tourist town and can't have part of the promenade and the whole of the slipway fenced off during the summer season. It gives the wrong message to locals, tourists and day visitors."
The issue was also raised by local Liberal Democrat councillor Chris Carter, Roundham with Hyde, at a meeting of the council.
The deputy leader of the Liberal Democrats said: "Following our objection, the Mayor has immediately actioned the £35,000 to make this slipway good.
"It is used by a number of sports clubs, and I will be seeking assurances that the work will be undertaken in good time for the summer season."